Hairpin Lace Infinity Scarf
Crochet Pattern by B. Hooked Crochet, Copyright 2014.
Please do not copy, sell, redistribute or republish this pattern. If you wish to share this pattern, link to this page only. You may sell items produced using this pattern. Do NOT use the copyrighted photos for your product listing.
This pattern is written in US crochet terms
[divider]
Gather your supplies
3 Skeins of RH Boutique Treasure yarn
Hairpin Lace Loom
Size 5mm Crochet hook
Darning Needle
Scissors
Disclosure: Please note that the links below are affiliate links, and at no additional cost to you, I will earn a small commission if you decide to purchase your supplies online. Please understand that I have experience with these products and I recommend them because they are optimal for this pattern, not because of the small commissions I make if you decide to buy them online. If you have received valuable information from me at any point, this is one easy way to pay it forward and say thank you for a job well done!


Don't have Amazon Prime? Don't pay for shipping, start your free 30-day trial on me!
My husband and I have been Amazon Prime members for years. We order all of our household supplies, gifts, crochet supplies and even some food items from Amazon. We wouldn't be able to save money if we had to pay for shipping. Amazon Prime members get free two day shipping on eligible Prime items plus a ton of other perks such as free movie and TV show streaming and free music streaming.
If you've been thinking about getting an Amazon Prime membership, how about you start with a free 30-day trial on me? It's the least I can do for your support!
[divider]
How to Crochet the Hairpin Lace Infinity Scarf
This pattern is also available for left-handed crocheters! Click here to be directed to the left-handed tutorial on Youtube.
Written Instructions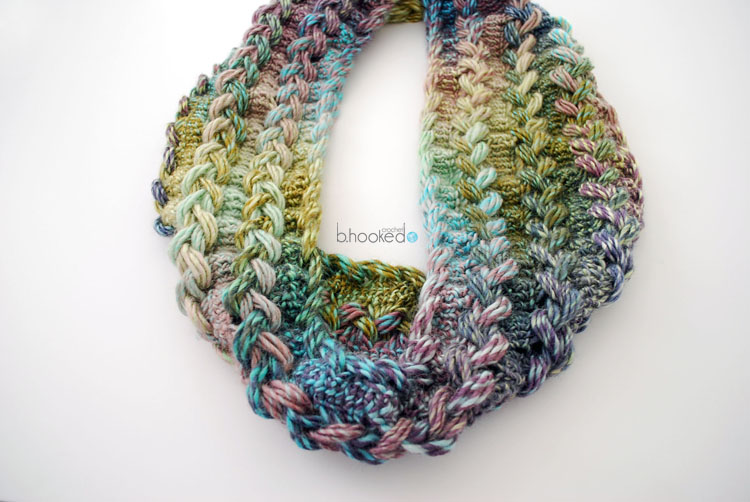 To complete the hairpin lace infinity scarf, you will be creating 4 strips of hairpin lace using the traditional single crochet stitch for a total of 230 loops, or stitches. After each strip has been crocheted, you will join them using a braided method and finish the sides using the same method. The finished scarf measures 25″ from one end to the other after sewn together and 6″ wide.
You do not need prior experience with hairpin lace to complete this pattern, however, I do recommend that you have some experience crocheting. If you consider yourself an advanced beginner, you should have no problem following along with my tutorial!
There will be no written pattern for this scarf because the concept is really quite simple. If you are familiar with hairpin lace and you would like to create this scarf without the video, simply crochet 4 hairpin lace strips with your loom on the widest setting using the single crochet for a total of 230 stitches on each side. Once you have crocheted your strips, braid them together by grouping 5 loops at a time while zig-zagging up the length of the strip. The sides are finished using the same method only braiding up the side rather than zig-zagging.