So many uses for a simple holiday project.
Skill Level | Intermediate
Finished Size | Small – 4″; Medium – 5″; Large – 6″
introduction
About this Pattern
---
If you're looking for a fun holiday project, you're in the right place. These elegant crochet snowflakes can be used as ornaments, hung on garland, used to embellish hats, stockings and even gifts!
With this project you'll learn how a simple combination of stitches come together to make a snowflake that looks much more complicated than it is. You can also play with different size yarn and hooks to make snowflakes of all sizes and textures using the same pattern.
Before you begin, review this page entirely so you understand the full scope of the project. We have a list of recommended supplies and abbreviations here on this page as well as written instructions and a tutorial to walk you through our elegant crochet snowflakes step-by-step.
getting started
Recommended Supplies
---
Approx 15 yds per snowflake; light weight, medium weight or super bulky.
3.75 mm Crochet Hook (lightweight yarn)
5 mm Crochet Hook (medium weight yarn)
8 mm Crochet Hook (super bulky yarn)
Yarn Needle
Scissors
FAQ: Can I use a different yarn?
Sure, as long as it's in the same weight category. Check your gauge and adjust as needed so the sizing comes out right. The recommended yarn amount will likely be different too.
Yarn Substitution Resources:
The Ultimate Guide to Substitute Yarn
Not an Amazon Prime member? Get a free 30 day trial on us so you can unlock unlimited, free, two-day shipping on all sorts of stuff (yes, even yarn!) and instant access to thousands of movies, TV shows and books. Try Amazon Prime Free for 30 Days
Disclosure: As an Amazon Associate (and at no additional cost to you) I earn a small commission from qualifying purchases if you use the links below. Please understand I have experience with these products & recommend them because they are optimal for this pattern, not because of the commission I make as a result of you buying them. Using these links is not required but is a big support!
pattern details
Abbreviations
---
This pattern is written using standard US crochet terminology.
Ch Chain
Dc Double Crochet
Hdc Half Double Crochet
Rep Repeat
Slst Slip Stitch
Sc Single Crochet
Sk Skip
Sp Space
St(s) Stitch(es)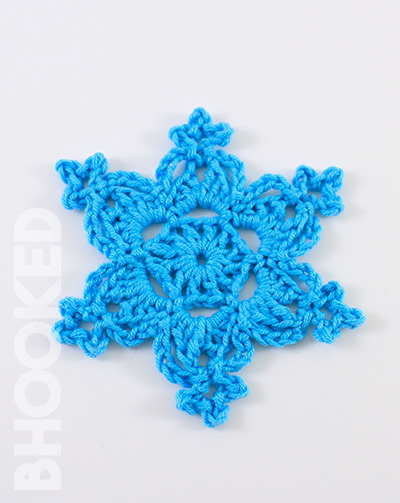 pattern notes
Additional Notes
---
Finished Size
Small | 4″ diameter
Medium | 5″ diameter
Large | 6″ diameter
Gauge
Use finished size to check gauge
The different sized snowflakes are achieved by using the same pattern with different yarn weights and hook sizes. The instructions are the same for all three sizes. To crochet the small snowflake, use lightweight yarn and 3.75 mm hook. For the medium snowflake, use medium weight yarn and 5 mm hook. For the large snowflake, use super bulky weight yarn and 8 mm hook.
For best results, we suggest you wet block your finished snowflake. If this is something you're unfamiliar with, check out our guide here.
printable pattern
Need to print this pattern?
---
You'll find the full pattern for free here on this page. However, if you'd like to have a PDF version to print or save for offline use, you can purchase it from our shop.
the pattern
Written Instructions
---
Round 1: Ch 4. Join with a slst to form a ring. Ch 4 (counts as dc and 1 ch). [1 dc in center of ring. Ch 1] 10 more times. Join with a slst to the 3rd chain. (12 dc, 12 ch).
Round 2: Slst in first ch-1 sp. *Ch 4. sk next ch-1 sp. Slst in next ch-1 sp. Rep from * to end of round. Join with a slst to first ch-1 sp gap sp.
Round 3: Slst in first ch-4 sp. (Ch 1, hdc, dc, tc, ch 3, tc, dc, hdc and sc) in same sp. *Slst in next ch-4 sp. (Ch 1, hdc, dc, tc, ch 3, tc, dc, hdc and sc) in same ch-4 sp. Rep from * to end of round. Join with a slst to first ch 1.
Round 4: *Ch 5. Slst in next ch-3 sp. Ch 5. Slst in 2nd ch. Ch 3. Slst in 2nd ch. Ch 3. Slst in 2nd chain. Slst in ch-3 sp of prev round. Ch 5. Join with a slst to the stitch directly in between this "spoke" and the next. Rep from * for each of the "spokes".
Fasten off and weave in ends.
---
By using this pattern, you agree to our terms of use:
This pattern is for personal use only. You agree not to modify, publish, transmit, sell, create derivative works or in any way exploit any of the content within this page, in whole or in part. If you wish to share this pattern, share a link to this webpage only. You may sell finished items made from this pattern.
Copyright, B.Hooked Crochet, LLC