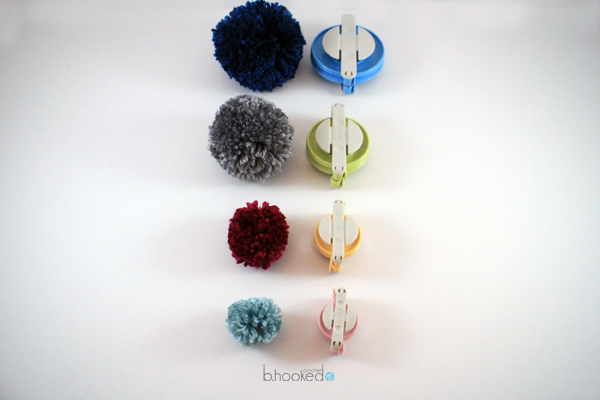 I'll admit I was a hard sell when it comes to pom pom makers. I have been making them by hand for as long as I can remember and it seemed there was no reason to purchase something when I can make it by hand. Although still a little reluctant, I purchased the large and small Clover pom pom maker sets.
After working out the initial kinks of learning how to use it (Clover's instructions are a bit vague) I started to see the real advantage of making pom poms with these pom pom makers. Making them by hand had two major cons: flimsy construction that is just waiting to fall apart and the near impossible task of making two poms that are the same size. The Clover pom pom maker solves both of those problems!
Now, not only can I make a hat with two pom poms that are the same exact size but I can be confident that they won't fall apart in the grasp of tiny little fingers. Don't get me wrong, the pom poms made from the Clover pom pom maker aren't indestructible but they are much more secure than the ones I made by hand.
I mentioned above that Clover's instructions for these tools are vague. It's really the only negative review I have to give. In spite of poor directions I was able to figure out how to use these pom pom makers and I have prepared a product review and demo video so you can just sit back and watch how it's done.
Ready to run out and buy some?
Clover pom pom makers are available in many craft store retailers and online retailers. They come in a total of six different sizes and are sold in sets of two and sell for $5.99 – $6.99.
Disclosure:  Please note that the links below are affiliate links, and at no additional cost to you, I will earn a commission if you decide to purchase the Clover Pom Makers online. Please understand that I have experience with this product, and I recommend them because they are useful, not because of the small commissions I make if you decide to buy them. Please do not spend any money on this product unless you feel you need them.
Purchase your Pom Pom Makers from Amazon!