Video Demonstration
Cross stitching on crochet is a very cool way of blending two fiber arts that have been around for many years. You can create a very classic finished object and take your crocheting skills to the next level with this technique. A few examples where you can cross stitch on your project are:
Pillows
Bags
Holiday Stockings
Hot pads/dish cloths
Wrist warmers
Afghans
I have prepared a video tutorial where I discuss the basics of cross stitching on crochet. After watching this video, you will be ready to dive right in! The video demonstration uses a free pattern that is available from bhookedcrochet.com, the Valentine Goody Bag. If you would like to make this your first cross stitch on crochet project, click on the link for the instructions and materials.
Cross Stitch On Crochet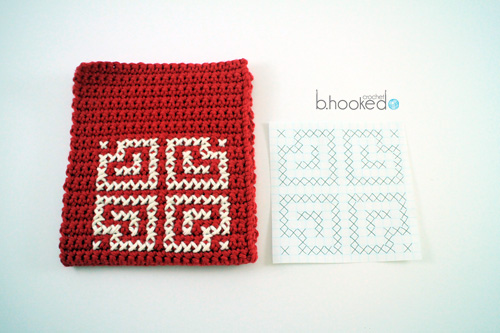 Gather your supplies…
To start cross stitching on crochet, you will need a few supplies but probably nothing you don't already have in your crochet bag.
Crochet fabric made with either single crochet stitches or Tunisian Simple Stitch.
Darning Needle
Cross Stitch (or hand drawn) Diagram
Yarn (yardage depends on project you are making)
If you are following along with the Valentine Goody Bag, you will also want to check out the free pattern here. You will need to first crochet your bag according to the written instructions and print a copy of the diagram available before proceeding with the video.
Cross Stitch on Crochet Video Demonstration