This post is sponsored by Joann Fabric and Crafts
The perfect gift for that yarn lover on your list this year
When I'm not crocheting, you better believe you will find me loom knitting. I find it gives my wrists a break (from crocheting too much of course) but still fills my desire to create with yarn.
Like any fiber arts enthusiast, I have tried many looms. Of them all, I tend to prefer those used with bulky weight yarn because it gives me instant gratification! I was thrilled when Boye approached me to review their hot new loom kit, a doorbuster this black Friday at Joann's 2015. This loom kit fits all of my needs and I'm sure you're going to love it as much as me!
What's Inside
Inside the Boye Loom Kit you will find an incredible value, over $75 worth of loom knit goodness.
9 looms, straight and round
1 pom pom maker
2 loom hooks
2 darning needles
Project book with instructions
Would you believe me if I told you this kit will be available for only $24.99 this black Friday, November 27th, 2015?!
You really don't want to miss out on this deal. I have already made two Christmas gifts using this loom kit and I've only had it a week! It's perfect for holiday crafting and gifting to that friend or family member who loves yarn as much as you.
[divider]
Simple Loom Knit Hat Tutorial
I love this kit so much that when you get yours, I want you to get started on the right foot. Even if you've never loom knitted before, you're going to make your first loom knit hat this afternoon!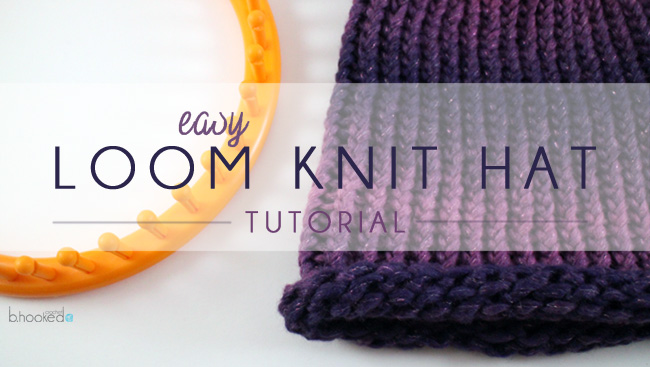 Loom Knit Pattern by B. Hooked Crochet, Copyright 2015.
Please do not copy, sell or redistribute this pattern. Items produced using this pattern may be sold, however please do not use the photos on this page.
Gather Your Supplies
Any size round loom from your Boye Loom Kit
1-2 Skeins bulky weight yarn (depending on loom size), Red Heart Boutique Infinity shown
Loom Hook
Darning needle
Scissors
Optional: pom pom maker
Simple Loom Knit Hat Tutorial
Check out this loom kit and more great products at Simplicity Creative Group and find Boye on Instagram @boyeyarncrafts.