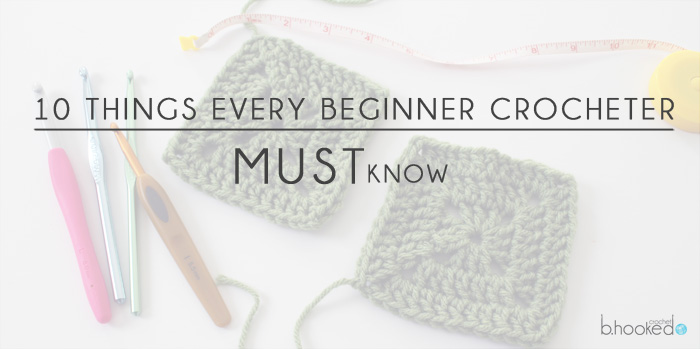 When you begin your journey down the path of crochet you will likely encounter many questions. But don't worry, there are so many wonderful crocheters out there willing to help!
Helping beginner crocheters is what I enjoy most about my job. I'm here to serve you and make the absolute most out of your new hobby and love. I have built a repertoire of patterns, tutorials, blog posts…all around the gaps I found when I taught myself to crochet. So many times I found myself asking, "why do I have to do it that way?" or "when is this technique appropriate?" With nothing more than natural curiosity and will to test the boundaries, I began to try…fail…learn, over and over. Eventually I could come up with answers to my own questions, write them down and now finally, share them with you.
Let's face it, you probably have more than 10 questions as a beginner.
I know I sure did.
I'm here to help starting with my top 10 list of things every beginner crocheter must know.
Experiment. There is no "wrong way" in crochet (in my humble opinion). Several of my designs came about as an experiment. The best way for us to learn is to experiment and discover why a certain method doesn't work. We'll always remember our "failures".
Your hands and wrists will start to hurt. This is completely normal. The repetitive motions of crochet can really upset our joints and muscles, especially if we go on crocheting binges of more than 2 or 3 hours. This will improve slightly with time, at least it did for me. The more you crochet, the more your hands will get accustomed to the motions. Be mindful of what your hands are wrists are telling you. If they hurt, give them a break. Learn your limits and stay within them.
You are as good as your hook. Yes, hooks matter. You don't necessarily need to drop a small fortune on the latest and greatest hooks, but finding the hook that you love will determine how much you enjoy crocheting and how well your projects turn out. A hook and how comfortable you are using it affects the consistency in your stitches and tension through out your project. The quality of my work improved noticeably when I purchased my Clover Amour and Tulip Etimo hooks.
Learn the four basic stitches. Nearly all crochet stitches are derived from a combination of them: single crochet, half double crochet, double crochet and slip stitch. Take the time initially to learn these four stitches and you will have much greater success learning the other stitches.
YouTube is your new best friend. Hundreds of free videos are available to teach you stitches, techniques and even full patterns. Search for specific stitches, projects, and techniques in the YouTube search bar and watch as many videos as possible. You are certain to find a creator whose teaching style matches your learning style. When you find them, subscribe to their channel!
Crochet terms vary from US to UK. The web is one of the greatest resources for free patterns but pay close attention to the website you are using. If it is based in the UK and you learned to crochet in the US (and vice versa) you may run into trouble. The stitch names are the same between the two countries, but the actions are different. Here's a handy chart for you to use if you need to translate between US and UK crochet terms.
Use social media as a source of inspiration. Seeing what others are creating inspires me to create something myself. I love spending time on Instagram and Pinterest gathering inspiration and sharing with my fellow crocheters. It's rewarding. It's fun. I don't know where I'd be with out it!
You must have a few essentials. Crochet is a very affordable hobby, that's one of the great things about it. You don't need to go out and buy everything at once but you will eventually acquire your own crochet "tool box". Starting out you will at least need a darning needle, craft scissors and two or three hook sizes. I recommend a 5 mm, 5.5 mm or 6 mm crochet hook. These are still my most used hooks. For the first several months of your new hobby, just pick up the supplies required for your current project. You'll have everything you need in no time.
All yarn companies have hundreds of free patterns. They are available on their website and yes, they are 100% FREE! Talented designers work with major yarn companies to come up with new designs every month so you may want to book mark your favorite yarn company's website.
Practice makes perfect. As cliche as it sounds, this is so true. It's hard as a beginner to look at a seasoned crocheters work and think you'll ever get there. YOU WILL, I promise, as long as you keep at it.
Remember, I'm here to help. The best part of my day and my job is seeing you succeed. It's a wonderful feeling when you finish a project you are proud of. I want to make sure everyone gets to experience that!
Happy Hooking!