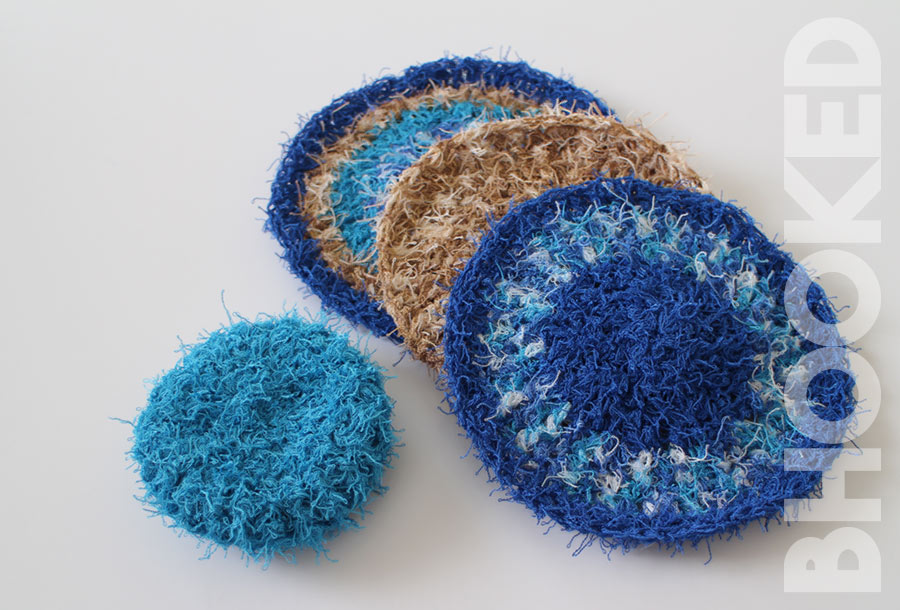 Practical Dish Scrubbies for Every Household.
Skill | Intermediate
Finished Size | Pot Scrubby: 4″ ; Scrubby Cloth: 6″
Pattern sponsored by Red Heart Yarns
introduction
About this Pattern
---
If you're tired of buying kitchen sponges and brushes, this is the perfect pattern for you! I made the switch to crochet scrubbies and haven't looked back. They're so much more economical and affordable than a regular kitchen sponge.
You may find this project challenging because Scrubby yarn is more difficult to work with than smooth yarns. The quality that turns it into an amazing pot scrubby also makes it difficult to see and count your stitches. Don't let that keep you from giving this crochet scrubby set a try!
Before you begin, review this page entirely so you understand the full scope of the project. We've prepared a list of recommended supplies and abbreviations you will need to get started as well as a video tutorial demonstrating how to crochet the pot scrubby and scrubby cloth as well as written instructions for both.
getting started
Recommended Supplies
---
1 Skein Red Heart Scrubby, Scrubby Sparkle or Scrubby Cotton
5.5 mm Crochet Hook
Yarn Needle
Scissors
FAQ: Can I use a different yarn?
Sure, as long as it's in the same weight category. Check your gauge and adjust as needed so the sizing comes out right. The recommended yarn amount will likely be different too.
Yarn Substitution Resources:
The Ultimate Guide to Substitute Yarn
Not an Amazon Prime member? Get a free 30 day trial on us so you can unlock unlimited, free, two-day shipping on all sorts of stuff (yes, even yarn!) and instant access to thousands of movies, TV shows and books. Try Amazon Prime Free for 30 Days
Disclosure: As an Amazon Associate (and at no additional cost to you) I earn a small commission from qualifying purchases if you use the links below. Please understand I have experience with these products & recommend them because they are optimal for this pattern, not because of the commission I make as a result of you buying them. Using these links is not required but is a big support!
pattern details
Abbreviations
---
This pattern is written using standard US crochet terminology.
Ch Chain
Fpdc Front Post Double Crochet
Dc Double Crochet
Rep Repeat
Slst Slip Stitch
St(s) Stitch(es)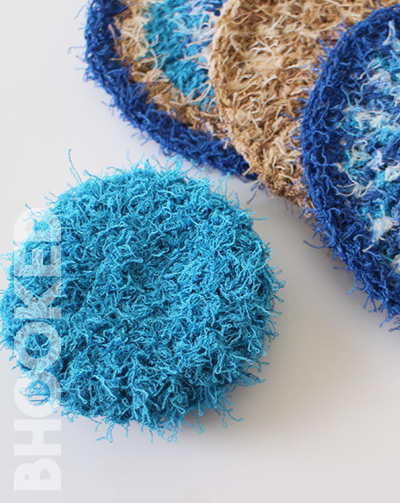 pattern notes
Additional Notes
---
Finished Size
Pot scrubby: 4″ diameter
Scrubby cloth: 6″ diameter
Gauge
Use first 4 rounds of scrubby cloth to measure gauge. Approximately 4″.
This pattern and tutorial begins with the pot scrubby. The pot scrubby method uses a clever way of stitching to help with the lack of stitch visibility.
The second part of the tutorial covers the scrubby cloth. You will need to work into stitches and count as you go, but the pattern is simple and easy to follow. The chain 3 at the beginning of each round counts as a dc.
printable pattern
Need to print this pattern?
---
You'll find the full pattern for free here on this page. However, if you'd like to have a PDF version to print or save for offline use, you can purchase it from our shop.
the pattern
Written Instructions
---
Pot Scrubby
Round 1: Ch 22. Join with a slst to the first chain to form a ring. Ch 3. Make 25 dc around the foundation chain (don't attempt to work into the chains). Do not join, continue with next round.
Round 2: Fpdc first dc. Fpdc every st. Do not join at end of the round.
Repeat
Continue working a fpdc for every st in a spiral fashion until your work measures approximately 4″ tall from starting edge. Fasten off leaving a 6″ tail.
Assembly
For the top and bottom of the scrubby, weave the tail in and out of each stitch in the round. Pull the tail to draw up the closure.
Flatten the scrubby with the drawn up ends in the center of the scrubby. Thread one tail through the center of the scrubby and tie it off with the other end. Trim the tails and you're done!
Scrubby Cloth
Round 1: Ch 4. Join with a slst to the first ch to form a ring. Ch 3 (counts as dc). Make 9 dc in the ring. Join with a slst to third ch. (10 sts)
Round 2: Ch 3. 2 dc every st. Join with a slst to third chain. (20 sts)
Round 3: Ch 3. *2 dc next st. 1 dc in next st. Rep from * to end of round. Join with a slst to third chain. (30 sts)
Round 4: Ch 3. *1 dc next st. 2 dc in next. Rep from * to end of round. Join with a slst to third chain. (40 sts)
Round 5: Ch 3. *1 dc in next 2 sts. 2 dc in next st. Rep from * to end of round. Join with a slst to third chain. (50 sts)
Finishing
Fasten off and weave in your ends. No blocking required.
---
By using this pattern, you agree to our terms of use:
This pattern is for personal use only. You agree not to modify, publish, transmit, sell, create derivative works or in any way exploit any of the content within this page, in whole or in part. If you wish to share this pattern, share a link to this webpage only. You may sell finished items made from this pattern.
Copyright, B.Hooked Crochet, LLC