A crochet diamonds is a must-know pattern for any crocheter who loves working with motifs and joining them to make bigger projects.
In this tutorial we'll show you how to crochet a diamond, a great motif to create unique shapes or fill the gaps on some of your other motif projects.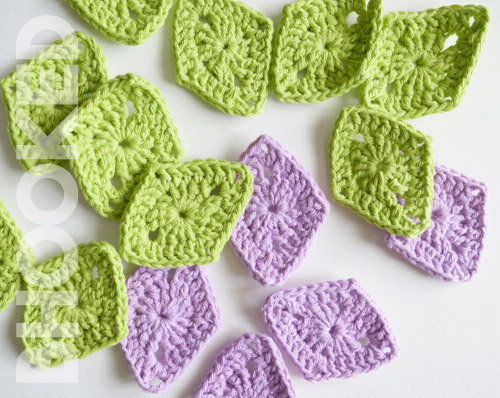 technique overview
They're pretty simple to crochet
You really only need basic crochet skills to crochet diamonds. Knowing how to make the double crochet is a big plus as well as being comfortable crocheting in the round. By the way, if you want to learn more about crocheting in the round, check out our guide here.
put it to use
When to use a crochet diamond your project
Crochet diamonds are great to use as "filler" shapes when crocheting a hexagon motif blanket. They're also great to piece together to make star patterns as you'll see in one of our recommended projects.
see how it's done
Crochet Diamond Tutorial
Video not displaying? Watch this tutorial on YouTube instead.
Left-Handed Tutorial on YouTube
Right-Handed Tutorial on YouTube
SUBSCRIBE TO B.HOOKED ON YOUTUBE
additional information
Used in Demonstration
Red Heart Super Saver Yarn (colorway: Royal) – Tutorial
Lily's Sugar 'n Cream Yarn (colorways: Hot Green & Soft Violet) – Images
5 mm Crochet Hook
Yarn Needle
Scissors
Disclosure: As an Amazon Associate (and at no additional cost to you) I earn a small commission from qualifying purchases if you use the links below. Please understand I have experience with these products & recommend them because they are optimal for this pattern, not because of the commission I make as a result of you buying them. Using these links is not required but is a big support!
pattern details
Abbreviations
---
This pattern is written using standard US crochet terminology.
Ch Chain
Dc Double Crochet
Slst Slip Stitch
Sp Space
Tc Treble Crochet
the pattern
Written Instructions
---
Round 1: Ch 3 and join with a slst to first ch to form a ring. Ch 7. In center of ring [tc, tc, dc, dc, ch, dc, dc, tc, tc, ch 3, tc, tc, dc, dc, ch, dc, dc, tc]. Join with a slst to 4th ch.
Round 2: Ch 6. 2 dc ch-3 sp. 1 dc in each st to ch-1 sp. In ch-1 sp [dc, ch 2, dc]. 1 dc in each st to next ch-3 sp. In ch-3 sp [2 dc, ch 3, 2 dc]. 1 dc in each st to next ch-1 sp. In ch-1 sp [dc, ch 2, dc]. 1 dc in each sp to last ch-3 sp. 1 dc in ch-3 sp from prev round. Join with a slst to 3rd ch.
Repeat: Rep round 2 until your crochet diamond is the size you want.
project ideas
B.Hooked patterns that use crochet diamonds