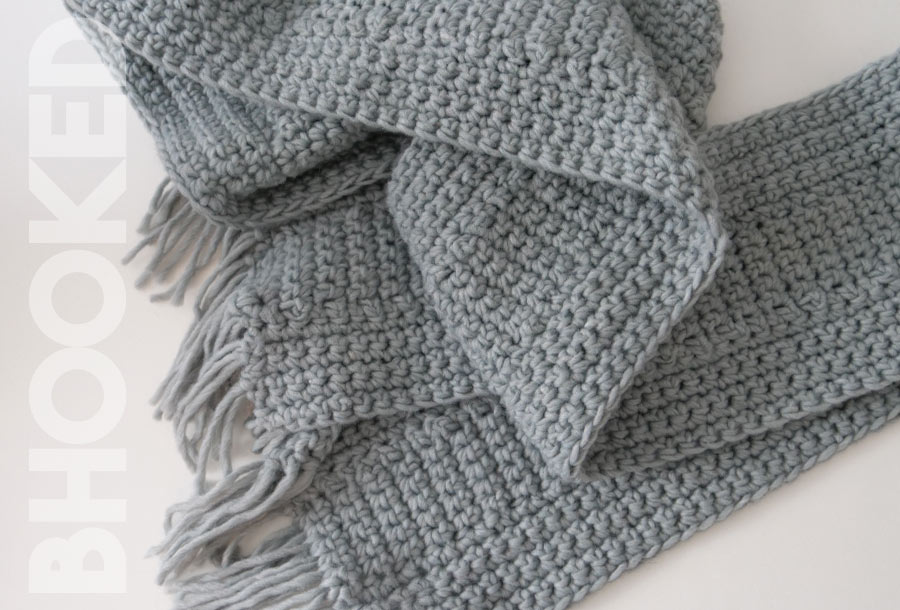 Not all yarn is great for knitting or crocheting scarves. It has to have the perfect blend of softness and durability.
Here are our top recommended yarns for scarves in 2022.
Scarves are a go-to project for many knitters and crocheters and for good reason too. They're easy enough to enjoy making while spending time with the family in the evening, yet interesting enough to keep it out of your forgotten WIP pile.
So what's the one thing that can spoil a good scarf? Using the wrong yarn.
You're going to spend a lot of hours making something that's supposed to withstand rubbing from coats and tossing around for an entire winter season but also something soft enough you actually want to wear. The right yarn makes all the difference.
A quick note before we get started:
This post was not sponsored by any yarn brand or company. These recommendations are based purely on our own experience and, most importantly, what we would recommend to a friend. We are, however, an affiliate of Amazon which means at no additional cost to you, we will earn a small commission on qualifying purchases should you choose to purchase any of the yarns on this page through our affiliate links.
So what's the key to finding the best yarn for blankets? It has to be durable and soft.
We rate each yarn based on these two factors as well as how affordable they are and how easy they'll be for you to find in stores or online. We'll break them down by fiber and give you a little bit of info about each.
Our top 4 recommendations of acrylic yarn for scarves
Mandala is a great "multipurpose" yarn but we find it especially great for scarves for three reasons. First, it has the durability part covered. You'll experience little if any pilling from this yarn as it rubs on your coat, your clothes (and anything else) and you can toss it in the washer and dryer, no problem. Now perhaps the more noticeable reason we love this yarn for scarves is the color variation. With Mandala you can knit or crochet a gorgeous scarf that changes color without having to add (or buy) more yarn. That leads us to the last reason we love this yarn for scarves. You can get a decent sized scarf out of just one cake.
Red Heart Soft is a great go-to when you want a solid color if you want to create a color pattern on your own. Soft is, as the name implies, very soft for an acrylic yarn and we find that it pills less than some of the other similar yarns on the market. It's also affordable and generally easy to find in stores or order on Amazon.
Bernat Softee Chunky is a great choice when you're pressed for time or if you just want a chunkier scarf because it falls in the super bulky weight category. Like our other acrylic recommendations, it's soft and durable. As an added bonus, it's available in several different colors and varieties including stripes, ombres and tweeds.
Last but not least, Colorscape. Oh how we love this yarn. Unlike any of our previous acrylic yarn recommendations, this one is a roving yarn, admittedly not always great for scarves. However, Colorscape has proven more durable than other roving yarns we have used. Like Mandala, this yarn takes our hearts because of the color but it has more of a fade whereas mandala changes color instantly.
Our top 4 recommendations of blended yarn for scarves
Patons Alpaca blend is another roving yarn that makes our list because it proved more durable than other roving yarns. You will, however, notice a little halo with this yarn as you crochet or knit your scarf. This added texture brings a new design element than any of our previous recommendations. One tiny word of caution here: it's not always easy to rip back when you make a mistake while crocheting and for knitting, it tends to split as you're knitting with it.
Scarfie, as the name implies, was made for making scarves. We love it because of the beautiful selection of color and how it fades from one color to the next. For a wool blend, it's pretty soft and very warm. It's another roving yarn, but a durable one.
Wool Ease Thick and Quick is not only our go-to blended yarn for a quick, chunky scarf but it's the go-to for many crocheters and knitters too. It's incredibly durable, resists pilling and comes in an amazing color selection.
Lastly, we love Patons Classic Wool Bulky yarn for scarves because it has a real "organic" look and feel to it. When you look closely, you'll see different color fibers blended together and we love the texture that creates. This one is a bulky weight yarn which means your scarf will work up quick.
project inspiration
B.Hooked scarf patterns that use these yarns