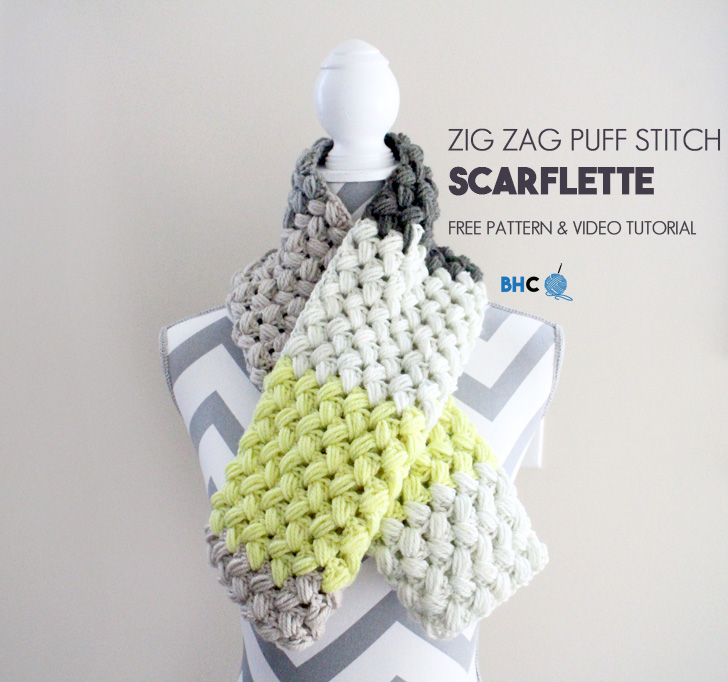 Crochet Pattern by B. Hooked Crochet, Copyright 2017.
Please do not copy, sell, redistribute or republish this pattern. If you wish to share this pattern, link to this page only. You may sell items produced using this pattern. Do NOT use the copyrighted photos for your product listing.
This pattern is written in US crochet terms
[divider]
Gather Your Supplies
1 Caron Cake (key lime shown); 2 Cakes for a full length scarf
6 mm Crochet Hook
Darning Needle
Scissors
Disclosure: Please note that the links below are affiliate links, and at no additional cost to you, I will earn a small commission if you decide to purchase your supplies online. Please understand that I have experience with these products and I recommend them because they are optimal for this pattern, not because of the small commissions I make if you decide to buy them online. If you have received valuable information from me at any point, this is one easy way to pay it forward and say thank you for a job well done!


[divider]
Don't have Amazon Prime? Don't pay for shipping, start your free 30-day trial on me!
My husband and I have been Amazon Prime members for years. We order all of our household supplies, gifts, crochet supplies and even some food items from Amazon. We wouldn't be able to save money if we had to pay for shipping. Amazon Prime members get free two day shipping on eligible Prime items plus a ton of other perks such as free movie and TV show streaming and free music streaming.
If you've been thinking about getting an Amazon Prime membership, how about you start with a free 30-day trial on me? It's the least I can do for your support!
[divider]
Gauge and Sizing
5 (puff) sts x 6 rows = 4″ worked in stitch pattern
Your finished scarf will measure approximately 8.5″ wide. Scarflette size – one Caron Cake – 38.5″ long; Full length scarf – two Caron Cakes – 77″ long.
Abbreviations
Ch – Chain
Dc – Double Crochet
Hdc – Half Double Crochet
Puff **see stitch description
To print a list of all crochet abbreviations to keep in your crochet notebook, check out my quick guide here:
Crochet Abbreviations Quick Guide
Pattern Notes
This pattern is perfect for so many occasions! Caron Cakes are all the rage right now and this is a perfect way to use up the cakes that you bought on impulse. Just one Caron Cake makes the scarflette sized featured in the pictures and two cakes makes a full sized scarf!
The zig zag puff stitch, although a bit of a yarn hog, is stunning. If you haven't tried this stitch before, you must! Given the nature of the stitch, this pattern works up lightning fast making it perfect for a last minute outfit accessory or a gift. Follow along with my detailed video tutorial to learn all the tips to making your zig zag puff stitch perfect.
Stitch Description:
Puff Stitch – YO, insert hook into designated stitch, YO and pull up a loop. YO, insert hook into same stitch, YO and pull up a loop. YO, insert hook into same stitch, YO and pull up a loop. YO, insert hook into same stitch, YO and pull up a loop. YO, insert hook into same stitch, YO and pull up a loop. YO, and pull through all eleven loops. Chain one.
**NOTE: The puff stitch can be worked in several different ways. The description above describes how I work the puff stitch in the video tutorial and for this specific yarn. This is an 11-loop puff stitch. In future patterns, I will always specify how many loops should be on your hook before you finish the puff stitch. This variability is used to create a thick or thin puff stitch.
[divider]
How To Crochet the Zig Zag Puff Stitch Scarflette with Brittany
This video is also available in a left handed version. Click here to be directed to the left handed tutorial on YouTube.
[divider]
Written Instructions
Row 1: Ch 21. Dc in fourth chain from the hook. Working backwards on the chain, make a puff stitch in the chain right behind the dc you just made. *Skip one chain, dc in next. Make a puff stitch in skipped chain. Rep to end of row. Hdc in last chain.
Row 2: Ch 2 and turn. Skip first stitch and dc in first puff stitch. Make a puff stitch in skipped stitch (space between hdc and puff stitch). *skip dc and space between puffs, dc in next puff stitch. Make a puff stitch in gap between puff stitches behind dc. Rep from * to end of row. Hdc in turning chain.
Rep row 2 until you run out of your first Caron Cake. You will get approximately 62 rows from one cake (results vary slightly due to variances in puff stitch height).
If you choose to create the full length scarf, add your second cake and repeat row 2 until you reach the end of your cake or the scarf measures approximately 77″ in length. Fasten off and weave in your ends.