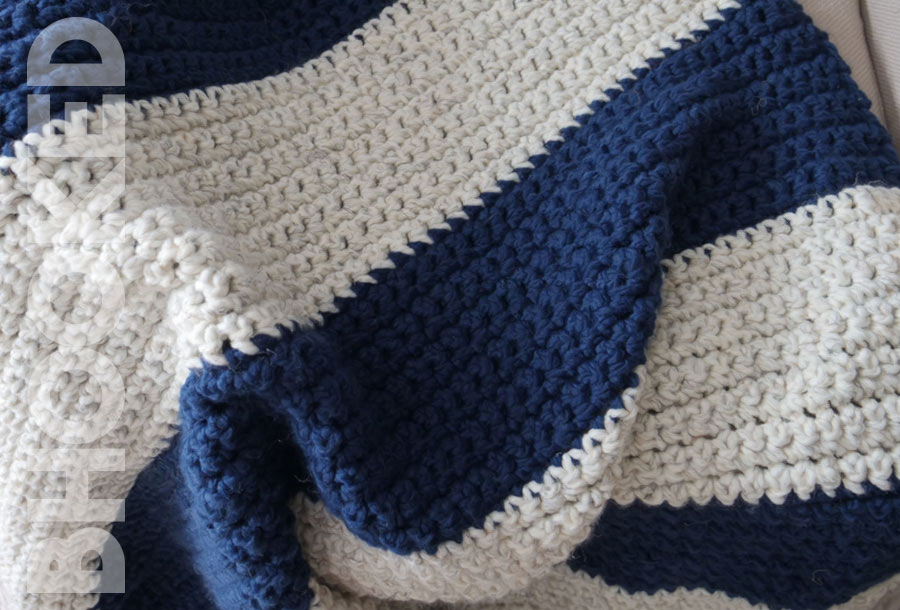 The last thing you want to do is spend 60+ hours knitting or crocheting a blanket with the wrong yarn, and that's being quite modest really. Some blankets can take even longer than that to finish. It's a huge investment to say the least and you need to be certain you're using the best yarn for blankets that'll get lots of love for years to come.
A quick note before we get started: this week's post was not sponsored by any yarn company or brand. These recommendations are based purely on my experience and are what I recommend to a friends or family.
So what's the key to finding the best yarn for blankets? The answer you're looking for is found in the answers to a few basic questions.
Who is the blanket for?
This is an important first question to consider because some people are allergic to certain fiber contents, have sensitive skin or prefer a certain level of softness in their blankets. It goes without saying if the person you're making a blanket for is allergic to wool, it's best to stick with acrylic or cotton yarn. Even if they're only allergic to wool, they may also have sensitivity to other animal fibers like alpaca or angora. In these instances, I always err on the side of caution and find a soft acrylic to work with.
Here are the top 5 acrylic yarns for blankets we recommend:
Red Heart With Love
Lion Brand Heartland
Caron Simply Soft
Lion Brand Basic Stitch
Bernat Blanket Yarn
Three of our top four recommended acrylic yarns for blankets are in the medium weight category which means you can crochet or knit them in a reasonable amount of time.
Four of these five recommendations are in the worsted weight category (so you can work them up in a reasonable amount of time) and they are all machine washable and dryable, a must for a blanket in my opinion.
Red Heart With Love makes the list because it's one of the softer, best value yarns that's currently available. Not to mention it's available in a large variety of colors and it's been around for years (no need to worry if it'll be discontinued). Each skein will run you about $7 and you'll get more yarn for that money than any other on our list.
Lion Brand Heartland is the softest of the worsted weight yarns on this list. It has a nice heathering in the color which will give your blanket a little more definition and texture too. Each skein will run you about the same as With Love but as you'd expect, the yardage isn't as much. At about 250 yds each, you'll need several to finish a blanket.
Caron Simply Soft makes the list because it's a very affordable yarn and it's quite soft for an acrylic. Not to mention, 51 color options makes it perfect for when you really need a customized color palette. My biggest issue with Simply Soft has always been its tendency to split but once you're use to it, it's really not so bad. Each skein will run you under $6 at 315 yds each. All in all, not too bad.
Lion Brand Basic Stitch is the newest yarn on the list but I'm recommending it for one main quality – it's anti pilling. So no need to worry about it getting fuzzy over time. You'll find a variety of solid colors as well as prints and for about $6 a skein, you'll get under 200 yds. Definitely not the best value ratio but to have a blanket that won't get fuzzy over the years, it's worth it.
Bernat Blanket Yarn is the only super bulky weight yarn on the list which means it works up incredibly fast. Some of my families favorite blankets were made with this soft, almost fleece like yarn and they're still around many years later. This, however, is also the most expensive yarn on the list. At about $12 per skein you'll get around 220 yds so expect to buy several for a full sized blanket. I typically only plan a blanket with this yarn if there are sales or craft store coupons because let's be honest, spending more than $100 for a blanket is not always doable.
Taking all of this into consideration, the next question I ask myself is…
Is the blanket for a baby?
The one exception to my acrylic yarn recommendations above is if it it will go to a baby. Their extra sensitive skin needs and extra special yarn.
All of my baby yarn recommendations are made specific for a baby, which means they're extra soft for baby-sensitive skin. They can also be machine washed and dried.
Here are our top 5 baby yarns for blankets we recommend:
Red Heart Soft Baby Steps
Red Heart Bunches of Hugs
Lion Brand Mandala Baby
Lion Brand Baby Soft
Bernat Baby Blanket
In this list the Red Heart yarns are worsted weight, the Lion Brand yarns are light weight and the Bernat yarn is super bulky. So you have a variety of options depending on how fast you need to finish this blanket.
Red Heart Soft Baby Steps has been around for a while so it definitely fits the "stands the test of time" requirement. You'll find a modest variety of pastel colors and at $6 per skein, that'll get you about 250 yds. Not too bad considering you'll need much less yarn for a baby blanket than for a full sized blanket.
Red Heart Bunches of Hugs is the newest yarn on the list and I can't help but wonder if it stemmed from Baby Hugs Light yarn which has been discontinued. You'll find a few more pastel color options with this yarn as well as a few print options. The value of this yarn is great. For about $11 you'll get just under 950 yds which means in many instances you may only need two skeins to complete a blanket.
Lion Brand Mandala Baby has such a beautiful variety of colors and with long sweeping color transitions, it feels like the yarn does most of the work for you as it creates stripes. It's another good value option because for about $9 you'll get almost 600 yds of yarn.
Lion Brand Baby Soft yarn is another that's been around for years which makes it a reliable choice. It's available in a variety of pastel colors as well as prints like most of the others on this list. At about $7 you'll get just over 450 yds which isn't too bad.
Last but not least, Bernat Baby Blanket yarn is virtually the same yarn as Bernat Blanket recommended above. The biggest difference is the color options. You'll find a variety of pastels and prints in the Baby Blanket version of this yarn and at $12 for a 220 yd skein, it's one of the more pricey options on this list.
Another question I like to ask myself when planning to make a blanket is…
Do you want to use animal or natural fiber yarn?
If so, there are a couple things to keep in mind when making yarn selections. Some animal fibers and even blended fiber yarns will pill (get fuzzy or fray over time with repeated rubbing). This can turn into a longevity nightmare for a blanket.
Another thing to consider is whether it can be washed or not. Wool is especially sensitive to hot temperatures as well as agitation and many wool yarns will felt when exposed to it. That being said,
Here are our top 4 animal fiber/blend yarns for blankets we recommend:
Lion Brand Wool Ease
Lion Brand Touch of Alpaca
Lion Brand Comfy Cotton Blend
Lion Brand Wool Ease Thick & Quick
It's hard not to notice every yarn on this list is from Lion Brand. No bias here, I just think Lion Brand does natural fiber yarns better than anyone else. You'll also notice all of them are blends and not pure animal fibers. That's not to say a pure wool or alpaca yarn wouldn't be good for a blanket but in my experience, blends are more durable and handle washing and regular use a little better.
Wool Ease and Wool Ease Thick & Quick are both wool/acrylic blends. Admittedly, they aren't the softest yarns on this list but if you're looking for a durable, affordable, easy to find wool blend yarn, you don't get much better than these. Wool Ease is a medium weight yarn while Thick & Quick is a super bulky.
Touch of Alpaca hasn't been around for as many years as Wool Ease but it's a lovely yarn nonetheless. It's also a blend of acrylic and alpaca (rather than wool) and it's a bit on the pricey side. For about $7 you'll get just over 200 yards so again, I always take advantage or a good sale or coupons when planning a large-scale projects with this yarn. The benefit however, is the beautiful texture. You'll notice a slight halo as you work with this yarn and it gives a beautiful look to a project.
Comfy Cotton Blend is by far the softest cotton I've ever worked with (and softest yarn on this list). But the best part is it doesn't make your fingers sore or dry when you work with it (like other cotton yards you may have tried). This one is a polyester/cotton blend and I believe that also contributes to the light and airy feel of fabrics worked in this yarn. At $8 per cake, you'll get just under 400 yds of yarn so it's a great value as well. You'll find most of the color options are prints with the exception of one solid cream.
Still not sure which yarn to use?
I totally get it. It's a big decision because you'll invest more time and money into a blanket than just about any other project. Generally speaking, if the person I plan to make a blanket for has no allergies or preferences, I consider these pros and cons…
| | | |
| --- | --- | --- |
| | PROS | CONS |
| Acrylic Yarn | Durable and affordable | Not always the softest option |
| Animal Fiber Yarn | Feels high quality; beautiful coloring | Can be really expensive |
| Cotton Yarn | Generally less expensive | Heavy, doesn't stretch and can be hard on the hands. |
These lists certainly aren't exhaustive. I know there are other yarns out there that would make a great blanket. However, when recommending yarn to my friends and family, I want to recommend something that's easy to find, affordable, comes in a variety of color and has practical care instructions.
additional resources
The Ultimate Guide to Yarn Weight