The BHooked Podcast for Crocheters & Knitters
Today's show will be a little different from the norm. Since this is our first episode, I'd like to formally introduce myself and share how I got started with crochet and my brand. We'll talk a bit about B.Hooked, how it got started and why a podcast is so valuable to my method of teaching.
We'll cover formalities of the show – what to expect and when. But most importantly, we're going to explore how this podcast will benefit you and why you should continue listening in the future.
resources
Mentioned in this Episode
---
No specific resources were mentioned in this episode but we've come a long way since this one! Dive into some of our episodes to help you learn and be inspired.
The BHooked Podcast is available on all the major podcast players. Just search for it on Apple Podcasts, Spotify, Google Podcast, Stitcher, iHeart Radio or TuneIn+Alexa.
Browse All Episodes | Dive into our library of podcast episodes
#1 Your New Crochet Podcast Starts Here
Brittany: Why hello, there! This is Brittany from B.Hooked Crochet and welcome to episode number one of The BHooked Podcast. Wow. I have been waiting a long time for this and I know you have too and I can't believe it's finally happening and you're here listening, which makes it even better. You could be doing so many other things right now, but you chose to spend some time with me today, and I'm so grateful for that. Today's show will be a little different from the norm.
Since this is our first show, I'd like to take this time to give you a little introduction of who I am and how I get started with crochet. We'll talk a little bit about B.Hooked Crochet, how it got started and why a podcast is so valuable to my method of teaching.
We'll cover formalities of the show, what to expect and when. But most importantly, we're going to explore how this podcast will benefit you and why you should continue listening in the future. Before we get to that, I'd like to take a moment to thank our sponsor, Red Heart.
Red Heart is proud to be America's favorite yarn and third year winner of the Women's Choice Award for the most recommended yarn brand. I use Red Heart every day and I couldn't agree more. Visit Red Heart.com to find inspiration with over 3,000 knit and crochet patterns and hundreds of video tutorials, and it's all completely free. Red Heart for the joy of it.
The idea of adding a podcast to the B.Hooked crochet brand came about the summer of 2015. It was about that time I had discovered podcasting for the first time. Even though podcasts have been around for years, I was interested in learning about a particular topic and a certain podcast episode was the best resource that was available. It kept coming up in searches over and over. With this, my initial reason for listening to podcasts was purely educational, but I found myself returning to this resource whenever I wanted to learn about this particular topic.
What started out as a resource for learning new things turned into entertainment and eventually something I looked forward to listening to every week. At the time, B.Hooked Crochet was primarily a visual resource with tutorials and patterns. I wasn't necessarily looking for a new venture, but I was really intrigued by the idea of adding an audio component to a very visual topic.
I knew it was going to be difficult, but I also knew that there was a special place for a podcast and our crochet community. Whenever something new happens or a change occurs, whatever that change may be, we're sometimes left wondering why.
So before we even get to the core of today's session, I want to address the biggest question that's probably on your mind. Why a podcast for B.Hooked Crochet?
I really can't believe how this community has developed over just the last five years. It's become my heart and soul, my career, my purpose. What started out as just a few videos on YouTube has developed into a website with over 200 patterns and resources for crocheters around the globe. My purpose isn't to get into that journey just yet, but we will.
My point now is that I have all of these great resources that are working wonders for hundreds of thousands of people. So why change things? I'm adding a podcast to the B.Hooked Crochet brand for a couple of reasons.
The first reason is to connect with you on a deeper level. A podcast allows you to connect with the host in ways that you couldn't on any other platform. I feel very connected with a lot of you, and I'm sure you feel the same way for me.
You feel connected to me in some way because you're watching my videos, you're hearing my voice, you're seeing the way I do things and that connects you to me. But podcasting is going to take it even further than that. This is a very raw, real life, unedited medium. With my tutorials, I can edit out the little imperfections, the ums or the uhhs that may come as I process a thought or idea, but with a podcast, it's just me.
This is me and my everyday language. Some days are better than others, and I may be spot on with my thought and my message. While others I'm not, but that's just me, and that's going to give you a connection with me as a real person.
I know this podcast is going to help me grow as a speaker, and it may even be fun for you to listen to that transformation. So episode one to, let's say, episode 50 in the future.
The second most important reason for adding this podcast to the B.Hooked Crochet brand is because at the end of the day, I'm here to help you. That has been my sole purpose since day one. Those of you who know me already know that I do absolutely everything to help you accomplish your goals without even asking for a single dime.
I don't sell products or patterns or courses like a lot of other people do. I do it all for free, and it's because I genuinely want to see you succeed. Whether it's with your crochet business or just for fun, I've always made decisions with B.Hooked Crochet with that mission as first priority.
Give it away for free. Be helpful. Be kind. And that mentality has always rewarded me in some way or another. I have a few advertisements on my website. I've acquired a few valuable partnership with some amazing companies, and I recommend products that I use personally every single day and I recommend them because I love them and I recommend them from one of the biggest online trusted marketplaces, Amazon. These resources are there primarily to help you accomplish what you need from me, but there are also opportunities to thank me for the work that I do.
I've always believed that if you do something to help someone, they'll find some way to return the favor. That has continued to be true with these little opportunities through the B.Hooked Crochet website. On that note, I'd like to transition to my story.
I can't really talk about B.Hooked Crochet without first telling the story of how I found this wonderful world of crochet. I was just shortly graduated from college. My husband and I had moved to a new city and we had no friends. I was really tired of the routine of waking up in the morning, going to work, coming home, cooking dinner, maybe watching some TV, going to bed and repeat. I just really needed a hobby. I had spent a lot of time studying in school and that occupied all of my free time.
But once I graduated, I had that free time again and I realized just how important it is to have something you enjoy outside of work and responsibilities in order to have a happy life. I decided one evening to pick a hobby.
And so I told my husband I'm going to Hobby Lobby after work and I'm going to come home with a hobby. And I was very determined by this. I was going to find something to occupy my hands, to occupy my mind.
He giggled a bit but he was very supportive. He understood how important this was to me. So that evening, I carefully scanned each aisle weighing my different options. I thought about woodworking and scrapbooking and sewing, and I've kind of dabbled in all of those at some point or another throughout my life, but all of those things required a lot of stuff, and I really wanted something more portable so that I could craft anywhere in my house. Eventually, I found myself in the yarn aisle and I was drawn to all the colors and the textures and the tools.
And I remember being really excited at that moment. For whatever reason, I recalled a time when my mom told me about how she used to crochet stuffed animals for my sisters before I was born, and my grandma also crocheted and was really good at it.
I don't know why children never listened to their parents. It's like we do the opposite without even thinking about it. Instead of choosing crochet as my hobby at that point, I decided that knitting looked easier because in a complete novice mind, having a tool in each hand sounded easier than crochet.
So knitting it was. My sister was pregnant at the time, so I decided I would knit a blanket for my new nephew. So I picked out one skein of yarn. Keep in mind, I said I wanted to make a baby blanket. Yes, I picked up one skein of yarn, and I thought that was going to make an entire blanket, a pair of knitting needles and I was on my way. Thinking back on it, I should have picked up a pattern for a baby blanket.
But I figure just a single stitch would do for whatever reason. I just wanted to do my own thing. I didn't want to try to follow a pattern. And honestly, I was really intimidated by what I saw as I flipped through those books. When my husband came home from work, he found me on the couch with my laptop, playing a knitting tutorial and the twisted mass of yarn that was emerging from my needles. It felt so awkward and I'm really sure that it showed.
I stuck with knitting for a few weeks, and it was OK at times, but I just realized I wasn't any good at it. I had no clue how to fix my mistakes. I didn't know what any of the stitches looked like. I couldn't count them and my perfectionist nature prompted me to frog the entire thing every single time I made a mistake. So I would knit a few rows. I would drop a stitch, then I would frog the entire thing because I didn't know how to pick up that stitch.
Then I'd start all over again. I'd make the same mistake or a different mistake. Couldn't fix it, so I had to rip out the entire thing. And after doing this for the eighth time, I just decided that knitting wasn't for me at that time. But I didn't want to give up on the idea of a yarn related hobby. I liked how portable it was and how inexpensive the supplies were. While attempting to sort out my knitting mistakes, I had purchased a crochet hook.
I decided that I would listen to my mom at that point and try crochet. I returned to YouTube and watched as many videos as I could. I remember that evening; it was in November I was spread out on on the bed. I had all of my yarn that I had acquired and couple crochet hooks and just little swatches everywhere of all the different stitches that I was practicing. So I worked up these few swatches. I did a single crochet, the half double crochet, the double crochet, and I was off.
I loved crochet. I still hated the idea of following a pattern. Mostly because they looked like they were in another language. But I still wanted to make that baby blanket for my nephew, and I had this yarn that I had already purchased for it.
So I found a stitch tutorial. It was the basket weave stitch, and I just made up my own pattern. I figured, Well, I'm just making one big square. So if they're making a swatch in this tutorial that all I have to do is multiply it to make it big enough for a baby blanket.
And that started it all. The rest, as they say, is pretty much history. I crocheted casually for a couple of years before starting B.Hooked Crochet, but the original rendition was nothing like what you see today. Today, B.Hooked is an online resource that teaches people around the world how to crochet, mostly through my designs. There are hundreds of posts and each serves the same goal - to teach you something.
Originally B.Hooked Crochet was actually an Etsy shop. Initially, I just wanted to sell my items to pay for my yarn. And honestly, that's how most Etsy shops are started. My Etsy shop was open for about eight months, and during that time I made one sale, one whole sale.
I sold an owl hat that I had made. It was an infant sized and I was so excited by this sale, but I couldn't help but realize that I really hate selling things and I'm really bad at it. I had a pretty good understanding of Etsy and the algorithms that govern the search pages. So when you type in crochet hat, Etsy is going to show you a certain set of listings, and that's based on how the person tags them or how popular it is or how popular that shop is.
And I knew these things, and I planned my my listings around this knowledge. I was pretty good at social media. Instagram was really just getting big about that time, and Facebook, of course, was pretty dominant, and Pinterest was also very dominant.
So I focused a lot on Pinterest initially to try to sell my items. So I was good at social and I enjoyed sharing photos of my work. But you know, the bottom line is that I spent a lot of time wondering why I didn't sell things in my mind. I was doing all of these things right so where was I going wrong? Where my product's not good enough? And then I wondered why someone would even pay for something that I made. And the worst feeling was if they bought it, what if they hated it? What would I do at that point? I mean, not only would you have to refund it and kind of go through that embarrassing process of, you know, if it fell apart or if they just received it and thought, wow, this isn't worth the money that I paid.
That was just really crippling for me. And it took all the fun out of my hobby. So throughout this process, I realized that designing my own patterns was really what I enjoyed the most. And and that's the first pivot that I made with B.Hooked crochet.
The idea of designing my own patterns was really exciting. I totally geek out on like techie things, too. So the thought of building a website to publish my patterns, it would just literally keep me up at night with excitement.
That's all I thought about. I thought about it at work. Driving to work, cooking dinner. I just was completely consumed by this idea of the internet and having my designs out there in the world. So this in itself, it kind of spawned a new hobby of mine.
So these designs eventually led into many other things; things people don't even really think about like photography. I had to learn like a lot about photography and I have. I like to think that I have a pretty artistic eye and most of the people in my family are artistic in some shape or form. But I was learning these things about photography, and I thought, Wow, this is so cool. I was learning a lot about graphic design and web design, eventually videography. These are all aspects about B.Hooked crochet that I enjoy most today.
Throughout this year long journey, I began to realize one thing - that I must be crazy. I found myself bouncing from one thing to the next, feeling a ridiculous amount of excitement with each new topic. So I mentioned photography, so I go off on this photography tangent.
I would learn all about this and then I would learn about web design and coding and just all of these different things. And I thought, I must be nuts because I can't just focus on one thing. I just feel this extreme high when I'm learning about something new. And then once I've learned that new thing, it's like it kind of goes away completely. I figured that I just had no clue what I wanted and that bouncing from this to that was my way of finding my thing.
I had been talking to a friend about this struggle, and she suggested that I read a book called Strengths Finder. And I was a little bit skeptical at first because I had taken, you know, personality tests online and thought, that's crazy. That stuff just doesn't work. But she just really assured me that she had done it. They actually use it at the company she works for. They facilitate these learning sessions where their employees read through this book and they take this test, and that's how they figure out what they're good at, like where they should place them within the company.
And so I thought, well, if this big company uses it, it's got to be pretty legit. I'm spending $13 on the book. Whatever, it's worth it. So I bought Strengths Finder on Amazon, and in the book it has the code and you go to the website and it took about 45 minutes.
It was a serious test and the main goal of it is just to determine your top five strengths. And I'm not really trying to spin off a sales pitch or anything at all for this book. But just speaking from personal experience, this was a rather important moment in my growth as a person. And especially for the B.Hooked brand. So in going through this book, eventually what I realized is that I wasn't crazy at all, but my number one strength is learner.
So I I love to learn. I try to focus all of my attention around learning something new. My passion and number one strength in life is learning. So after I realized this, I knew that B.Hooked Crochet was meant to be a teaching platform.
And with each new thing, I vowed to do just that. Teach. Crochet provided me with relaxation, self-gratification, confidence, but B.Hooked Crochet made it all a way of life and I encourage you to find your reason for crocheting, just as I did with relaxation and self-gratification and confidence, and it could be the same.
You could have the same reasons as I do, but knowing this can really be an important shift in perspective when you understand why you're doing something. Everything else falls into place. I haven't told my story like that before, but I'm really glad that I did this. This is real life stuff here remember? So you're just getting me and the podcast and my real life.
Let's quickly discuss the formalities of the show, and we'll wrap things up for today. Every week you'll have a brand new podcast up to listen to, so every single week you'll have a brand new episode.
It's going to be available in iTunes and Stitcher, which if you're listening here, then obviously you've probably figured that out. There's also going to be a way to listen from bhookedcrochet.com so you can go to the show notes pages and you can listen right there on the page.
Some shows will be a solo format, just like this one where it's just me pouring out my knowledge about a non-visual topic related to crochet, and that's the important part here. That's how I'm going to be expanding on my method of teaching is to teach you topics related to crochet that are not visual.
So I'm still going to be doing the video tutorials. I'm still going to be designing. I'm still going to be writing blog posts, but I'm really going to focus heavy on the podcast for non visual topics. So things that are really easy for me to explain to you just as if I were sitting in the room with you.
Other episodes will be conversations between me and an expert in crochet, so this could be some of the other designers you see on the internet. This could be brand evangelists for yarn companies, other professionals that might be related to fiber arts or have a fiber arts background.
The goal with every episode is to give you valuable information to help you either achieve a goal. Build on your skills or learn something new. If I can do that, then I would say this podcast is a complete success.
I'm not worried about how many people listen. I'm just concerned with my one mission, and that's to teach you something. Each episode will last between like 30 and 45 minutes, which is long enough to go pretty in-depth on a topic, but it's not too long.
I know your time is really valuable. I'm asking for more of your attention with adding these these podcasts to be able to crochet, and I don't want to keep you for much. I just want to provide you with some good information.
This platform will allow you to listen in at your convenience. These aren't live shows. They are recorded and uploaded so you can listen when it's convenient for you. one of the cool things about a podcast is that you can listen from anywhere.
A lot of times when people are consuming podcasts they're doing very different things. Sometimes they might be driving, whether it be to school or to work. Sometimes they listen at the gym, and if you're like me, you might end up listening to this podcast while you crochet.
That's the really cool part. If you're like me, you like to have some kind of ambient noise in the background while you're crafting. And typically, what I would do is just put the TV on, but put on some show that I've seen a half a dozen times. And just listen to it, or sometimes I'll listen to music. And I mean the really frustrating part for me is trying to watch something while crochet, because a lot of times I need to look down at my project, and most of the time I look down pretty much all the time. I don't ever stop to look at the TV, and that's why there's this funny joke between crocheters and even knitters - We can recite an entire season of a TV show, but we never know any of the actors. We don't know what they look like because we're always looking down.
And so that's why this is just that much more greater. You can put the podcast on, pop in your earbuds, listen on your computer and you can just work and and it'll be like, we're having a little crochet meetup.
So if you're completely new to B.Hooked Crochet and this is the first time you're listening, you're listening to my voice and you want to learn more, go to www.bhookedcrochet.com or you can connect with me on Twitter or on Facebook or on Instagram.
I enjoy being on those platforms and I really enjoy having conversations with you; reading your messages, seeing the pictures of your projects. All of that is really the highlight of my day. So please reach out to me on one of those platforms, whichever you choose. If you email me or send me a message, I will reply. I promise. So visit bhookedcrochet.com. Take a look at all the free resources I have available. You can find the show notes for this episode at bhookedcrochet.com/session001.
Now, before we end things, I want to leave you with a tip because every podcast needs to have a focus. The main focus of episode one was to give you a glimpse behind the curtains. To tell you why a podcast is so important to not only me, but to you moving forward. But I wanted to leave you with something that you can really think about; take away with you today and apply it in your life.
It's really applicable in the world of crochet because we're oftentimes afraid to explore and that fear - it stems from the fear of failure. Don't be afraid to fail, especially in crochet. I mean, in life, of course, but specifically with crochet. That's how we learn best. We learn by making mistakes. We learn by doing something and finding out exactly why it doesn't work. That failure is a process of learning. And once I realized that I didn't have to worry about doing things the correct way, I realized that it was so much more fun to crochet because I just
didn't have to worry about anything like that. I did things the way I wanted to because I wanted to do it that way, not because somebody in a YouTube video told me to. And there were a lot of times that I just completely failed.
A project fell apart, or it had wobbly edges or didn't fit all of those things. Lots of failures came from that mentality. But that's how in the relatively short amount of time that I've been crocheting, that's how I've developed my skills to the level that they are today.Through the process of failing, I was able to understand why something didn't work and why I had to do it a certain way. To make it work. And so that's my tip for you today. Don't be afraid to fail.
I want to thank our sponsor one more time. Red heart and congratulate them for winning the Women's Choice Award for America's most recommended yard brand. If you sign up for their emails, you can get 15% off your and your entire first purchase.
So just to head over to Red Heart.com to sign up today. Thank you so much for joining me today and for sticking with me all the way to the end. You guys are the greatest. I'm really excited about serving you in this new medium with The BHooked Podcast.
I'll see you next week in session two. Take care. Bye for now.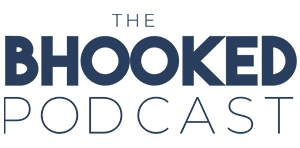 On the show, Brittany aims to inspire you and help you grow in your craft. Through her own stories and the stories of special guests, you'll discover tips and tricks to improve your crochet and knitting skills and find inspiration to make something that makes you happy.
When you want to kick back and learn from yarn industry experts, grab some yarn, your favorite cozy beverage and turn on The BHooked Podcast. There's never a shortage of all things crochet, knitting or yarn. Listen & subscribe on your favorite podcast player!
---
Have something great to share?
I'm always looking for knowledgeable and inspirational people in the crochet and knitting community to chat with on the show!