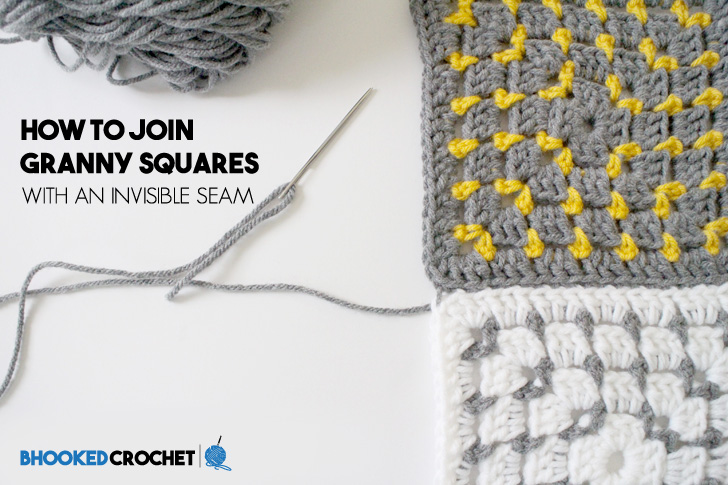 Why Join with an Invisible Seam?
There are dozens of different granny square joining techniques and each has their time and place. Joining with the invisible seam is appropriate when you need to accomplish two things:
You need a flat seam
Your blocks are different colors
The invisible join will provide a completely flat join of your granny squares. It's as if they are glued together at the edges. Many times we create granny squares using different combinations and even though we use one of the colors to seam things up, there will almost always be a case where our sewing yarn matches one block but not the other. These two reasons are why the invisible join is my go to for joining granny squares.
[divider]
Let's give it a try
In this tutorial, I'll demonstrate how to do the invisible join. To get you started, crochet a couple of granny squares (any style will do) of any stitch you prefer. Here's a free pattern to try:
Circle in a Granny Square Motif, free pattern
You'll also need a second scrap of yarn in a different color.
My Recommendations
Caron One Pound
Clover Chibi Needles
Disclosure: Please note that the links below are affiliate links, and at no additional cost to you, I will earn a small commission if you decide to purchase your supplies online. Please understand that I have experience with these products and I recommend them because they are optimal for this pattern, not because of the small commissions I make if you decide to buy them online. If you have received valuable information from me at any point, this is one easy way to pay it forward and say thank you for a job well done.
[divider]
How to Make the Invisible Seam
[bctt tweet="The invisible seam is perfect for joining squares when you are using multiple colors or when you need a completely flat seam." username="@bhookedcrochet"]
[divider]
Written Instructions
Lay your squares together, right sides facing each other. Beginning with one of the corners, insert your darning needle in the back loop of one square and the back loop of the other. Working in the opposite direction, insert your needle in the back loop of one square and the back loop of the other. Repeat until you've reached the end of your square. Pull the ends of your sewing yarn tight.