Understanding Crochet Pattern Repeats
The large majority of crochet designs include some kind of repetition. We repeat stitches and rows and everything in between. The repetitive motions of crochet is without a doubt one of it's more soothing qualities, at least for me. However, in terms of crochet pattern repeats it's usually the component that causes us the most confusion.
Believe it or not, the purpose of a special format for pattern repeats is to simplify and shorten the length of the pattern overall and make reading it more easy. It's been said, many years ago shortening stitch patterns into repeats was to save ink and paper during pattern production. Even though nowadays you can find more patterns digitally than in print, crochet repeats still exist.
In today's podcast, we're going to dive into the world of crochet repeats. Understanding them is the next step of our Master Crochet Patterns journey and I personally can say how amazing it will feel to finally "get it". We'll break down the type of repeats you'll find within a pattern – row repeats, repeats with asterisks, repeats with brackets, repeats with parenthesis and look at an example of each.
resources
Mentioned in this Episode
---
Repeats with Brackets
[skip next Dc, Ch 2, 3 Dc in next] 2 times.
Repeats with Parenthesis
(2 dc, ch 2, 2 dc)
Repeats with Asterisks
*3 dc, ch 1, skip next st.
Row Repeats
*Sk next ch. 2 Dc in next ch. Repeat from * across.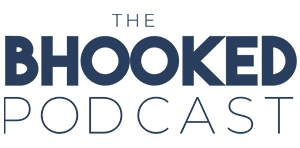 On the show, Brittany aims to inspire you and help you grow in your craft. Through her own stories and the stories of special guests, you'll discover tips and tricks to improve your crochet and knitting skills and find inspiration to make something that makes you happy.
When you want to kick back and learn from yarn industry experts, grab some yarn, your favorite cozy beverage and turn on The BHooked Podcast. There's never a shortage of all things crochet, knitting or yarn. Listen & subscribe on your favorite podcast player!
---
Have something great to share?
I'm always looking for knowledgeable and inspirational people in the crochet and knitting community to chat with on the show!