You put a little bit of yourself in every project you make.
For most of us, crochet is life. We live and breath double crochets and yarn overs. It's the single activity we look forward to every day and the only thing that makes our hearts pitter patter when we stroll down the yarn isle. We live to create with our hooks, hands and favorite yarn. It's passion.
When you're as invested in something as we are, you put a little piece of yourself into every project you make. As we move from one project to the next, we discover a little more about ourselves – what we like and what we don't; what colors speak to us. Every aspect of that project tells a story of where you were at that particular time in your life. We express ourselves through crochet.
special guest
Jessica Carey
Jessica is the pink-haired and giggly lady behind The Hook Nook. There she inspires her community to build confidence in themselves as well as within their chosen craft. She recently launched her own yarn line, hooks and accessories.
Website | The Hook Nook
Instagram | @the.hook.nook
Twitter | @thnjessica
resources
Mentioned in this Episode
Jessica has a lot of great things going on. If you love what you heard, check her out!
The Hook Nook Blog | Jessica's Blog
Etsy | Jessica's Collection of Goodies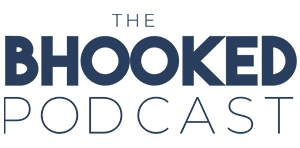 On the show, Brittany aims to inspire you and help you grow in your craft. Through her own stories and the stories of special guests, you'll discover tips and tricks to improve your crochet and knitting skills and find inspiration to make something that makes you happy.
When you want to kick back and learn from yarn industry experts, grab some yarn, your favorite cozy beverage and turn on The BHooked Podcast. There's never a shortage of all things crochet, knitting or yarn. Listen & subscribe on your favorite podcast player!
---
Have something great to share?
I'm always looking for knowledgeable and inspirational people in the crochet and knitting community to chat with on the show!