Finding a crochet community could be the best thing you ever did for yourself.
We need to celebrate all the wins – finishing a project that took months to create; memorizing that stitch pattern; or launching your first design. No matter what the situation, if you're excited about it you need a companion to celebrate with.
When we're extremely passionate about something, we want to share it with someone and If your spouse, friends or family aren't as into crochet as you are, you can feel somewhat alone in your hobby. Over time that can lead to less "crojo" and less motivation to keep doing what you love. So finding a community for crochet enthusiasts is the best thing you can do for your hobby!
What about the situations where you need help? I always ask my husband for help with mathematical issues related to designing (he's kind of a math whiz!) and I've chatted with my sister for color inspiration (she's a graphic designer and has a great eye for that) but at the end of the day, neither of them can help me with crochet related questions. I've had to solve every problem all on my own. I'm not saying this is a bad thing because it led me to a much higher understanding, but things would have been easier had I been a part of a community that I could turn to for help.
special guest
Stephanie
Stephanie is the talented lady behind everything you see at "All About Ami" a blog she created to share her love of amigurumi and showcase her original designs.
Website | All About Ami
Instagram | @allaboutami
Twitter | @allaboutami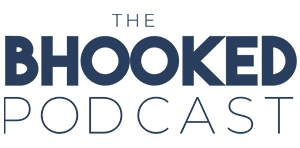 On the show, Brittany aims to inspire you and help you grow in your craft. Through her own stories and the stories of special guests, you'll discover tips and tricks to improve your crochet and knitting skills and find inspiration to make something that makes you happy.
When you want to kick back and learn from yarn industry experts, grab some yarn, your favorite cozy beverage and turn on The BHooked Podcast. There's never a shortage of all things crochet, knitting or yarn. Listen & subscribe on your favorite podcast player!
---
Have something great to share?
I'm always looking for knowledgeable and inspirational people in the crochet and knitting community to chat with on the show!