Find time in your day to do what cheers you up and nourishes your soul.
For many of us, crochet is an important part of life. It gives us a creative outlet, keeps our hands and minds occupied and more importantly, our hearts happy. Let's face it – life is complicated, busy and filled with "adult" things. We spend so much time making sure our lives stay together that we often forget to take care of our selves.
This year I learned that in order to be my best self for my husband, my family and my audience, I had to put myself first. It sounds a little contradictory I know, but think about it. When you give and give and give, eventually you will run out of steam. For me this looks like 30 minutes each morning that are just for me – to reflect on the things I'm grateful for (with the 5 Minute Journal), expand my personal development by reading a few pages out of a book and doing some yoga. For you, it may be different. Find what nourishes you and make it a priority to incorporate it somewhere in your day – even if it's only for 15 minutes.
special guest
Jess Coppom
Jess is the creative wonder woman behind everything you see at Make and Do Crew. She shares crochet & knitting patterns for modern makers while focusing on modern, easy-to-make (but doesn't look like it) projects.
Website | makeanddocrew.com
Instagram | @makeanddocrew
Twitter | @MakeAndDoCrew
resources
Mentioned in this Episode
---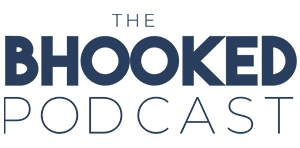 On the show, Brittany aims to inspire you and help you grow in your craft. Through her own stories and the stories of special guests, you'll discover tips and tricks to improve your crochet and knitting skills and find inspiration to make something that makes you happy.
When you want to kick back and learn from yarn industry experts, grab some yarn, your favorite cozy beverage and turn on The BHooked Podcast. There's never a shortage of all things crochet, knitting or yarn. Listen & subscribe on your favorite podcast player!
---
Have something great to share?
I'm always looking for knowledgeable and inspirational people in the crochet and knitting community to chat with on the show!