You don't have to reinvent the wheel.
I'm not sure why I didn't think of re-purposing bits and pieces of my previously written patterns to create fresh new designs sooner. I always feel like there isn't enough time in the day to meet all of my responsibilities. It wasn't until I connected with, Sarah, from Repeat Crafter Me, that I had that "ah-ha" moment. This new approach could be a game changer (and certainly a time-saver!)
If you're a designer and you aren't already doing this, Sarah is going to blow your mind. Not only that, she'll prove to you that you don't need special permission to pull from your archives of patterns to turn a previously written pattern into something completely different. As a designer myself, I felt like I had to create something brand new every single time. This is not the case!
If you're a maker or hobbiest, think of how much time you'll save by using this creative approach. You'll be more efficient in making gifts for the growing list or you'll be able to save time creating a market inventory for yourself.
special guest
Sarah Zimmerman
Sarah is the creative lady behind all you see at Repeat Crafter Me, which includes tons of crochet projects and crafts as well as the occasional crockpot recipe.
Blog | repeatcrafterme.com
Instagram | @repeatcrafterme
Twitter | @RepeatCrafterMe
resources
Mentioned in this Episode
---
We didn't mention any specific resources in this episode but be sure to check Sarah out on social. She has all sorts of fun things going on!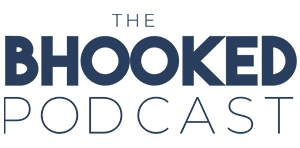 On the show, Brittany aims to inspire you and help you grow in your craft. Through her own stories and the stories of special guests, you'll discover tips and tricks to improve your crochet and knitting skills and find inspiration to make something that makes you happy.
When you want to kick back and learn from yarn industry experts, grab some yarn, your favorite cozy beverage and turn on The BHooked Podcast. There's never a shortage of all things crochet, knitting or yarn. Listen & subscribe on your favorite podcast player!
---
Have something great to share?
I'm always looking for knowledgeable and inspirational people in the crochet and knitting community to chat with on the show!