This project was sponsored by Clover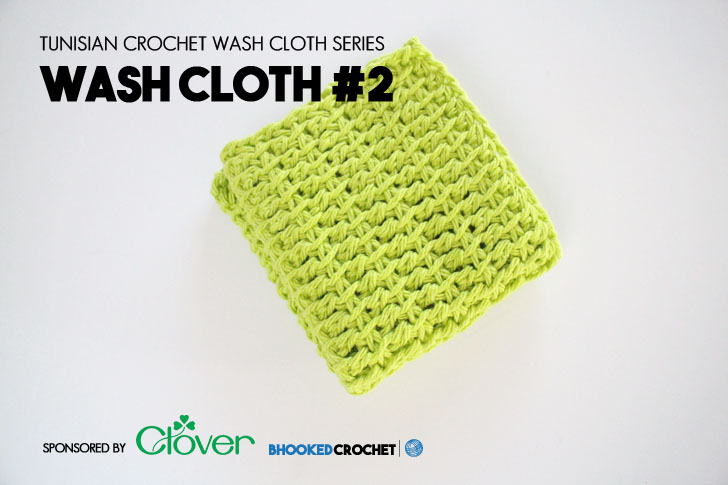 Tunisian Crochet Washcloth – Pattern Two of Four
Crochet Pattern by B. Hooked Crochet, Copyright 2017.
Please do not copy, sell, redistribute or republish this pattern. If you wish to share this pattern, link to this page only. You may sell items produced using this pattern. Do NOT use the copyrighted photos for your product listing.
This pattern is written in US crochet terms
[divider]
Gather Your Supplies
Lily's Sugar 'n Cream Cotton, 68 yds (Hot Green shown)
Darning Needle
Scissors
Disclosure: Please note that the links below are affiliate links, and at no additional cost to you, I will earn a small commission if you decide to purchase your supplies online. Please understand that I have experience with these products and I recommend them because they are optimal for this pattern, not because of the small commissions I make if you decide to buy them online. If you have received valuable information from me at any point, this is one easy way to pay it forward and say thank you for a job well done!
[divider]
Don't have Amazon Prime? Don't pay for shipping, start your free 30-day trial on me!
My husband and I have been Amazon Prime members for years. We order all of our household supplies, gifts, crochet supplies and even some food items from Amazon. We wouldn't be able to save money if we had to pay for shipping. Amazon Prime members get free two day shipping on eligible Prime items plus a ton of other perks such as free movie and TV show streaming and free music streaming.
If you've been thinking about getting an Amazon Prime membership, how about you start with a free 30-day trial on me? It's the least I can do for your support!
[divider]
Gauge and Sizing
8 sts x 3 rows = 2″
Your finished crochet washcloth will measure approximately 8″ x 8″.
Abbreviations
Ch – Chain
Fwd – Forward Pass
Rtn – Return Pass
Rem – Remaining
Sk – Skip
Slst – Slip Stitch
Sts – Stitches
Tdc  – Tunisian Double Crochet
To print a list of all crochet abbreviations to keep in your crochet notebook, check out my quick guide here:
Crochet Abbreviations Quick Guide
Pattern Notes
For best results, wet block your washcloth after completion. For a video demonstration of wet blocking, check out this resource:
[divider]
Tunisian Crochet Washcloth Series, Pattern Two Tutorial
This tutorial is also available in a left handed version. Click the link below to be directed to the left handed video on my YouTube channel.
Tunisian Crochet Washcloth Series, Pattern Two – Left Hand Tutorial with Brittany
[divider]
Written Instructions
 
Foundation Row: Ch 30. Fwd: Pull up a loop in the 2nd ch from hook and in each rem ch. Rtn: YO, pull through one loop. *YO and pull through 2 loops. Rep from * to end of row.
Row 1: Fwd: Tdc in each stitch to end of row. Rtn: YO, pull through one loop. *YO and pull through 2 loops. Rep from * to end of row.
Rep row 1 for a total of 11 rows. Bind off in pattern.
[divider]
Tunisian Crochet Wash Cloth Series Pattern Links
[divider]
Clover Interchangeable Tunisian Crochet Hook Set Giveaway!
My good friends at Clover USA have agreed to send one lucky winner the complete Interchangeable Combo Set to one lucky winner. How amazing is that? Here are the giveaway details:
Entries are open today, August 13 through September 24, 2017.
Entries open to US and Canadian residents only.
You must provide a valid email to enter.
One entry per person, per email.
Additional entries can be earned by referring a friend via social media. After you've entered, copy the link provided on the entry form and share on your social networks. You get an extra entry for each friend who participates!
Participant must complete all four Tunisian crochet washcloth patterns in this series. The winner will have to email me a photo of them.
GIVEAWAY DETAILS
The Giveaway will run from Aug 13, 2017 to Sep 24, 2017. One winner will be selected at random from the pool of entries on Sep 24, 2017. The winner will be contacted via email and must reply with their shipping information and photo proof of participation (all four completed washcloths) within 48 hours of receiving it. If the winner does not respond within the given time, a new winner will be randomly selected and contacted. 
Fill out the form below to secure your entry!
[contesthopper contest="8203″]
FAQ's
How do I earn extra entries? Additional entries can be earned when someone submits their entry through YOUR UNIQUE REFERRAL LINK.
Where do I get my referral link? Your referral link is generated after you have typed in your email address and clicked the submit entry button. You'll see a window that says "Click to Copy Share URL:" followed by a grayed out web address. You need to click in this window to copy (it may look like nothing is happening). Then simply paste this code in a status update, tweet or email. When someone clicks your referral link and submits their entry, you'll get your referral bonus!
What is my referral bonus? You will earn one additional entry for every person who clicks your link AND submits their entry too.
How many additional entries can I earn? The sky is the limit. You can earn as many entries as people you refer. So for example, if you refer 20 people then you will earn 20 extra entries.
How do I know how many entries I have? Check this page frequently. The middle box is the total number of entries for the entire contest. Your number of entries is displayed in the top left box. It will update automatically based on your referrals.
What is an entry? An entry is the number of times your name is "in the hat". You get one entry for submitting your email address. You get additional entries for referring others to submit as well. The more entries you have, the better chance you have of being selected at random to win.
What do I do to join? Nothing, just participate!
What do I do now? Try to earn as many entries as possible by sharing your link. Wait until Sep 24th to see if you won the supplies.
Good luck, friends!