This post is sponsored by Yarnspirations
It's Crochet Pumpkin Season Again!
I don't know about you but I LOVE the fall season. I love the smells. I love the colors. I love the decorations! I've always been one to take a modern and useful approach to my crochet projects and making pumpkins to put all over the house is no exception!
When I was presented with the opportunity to teach you how to crochet Yarnspirations new Harvest Crochet Pumpkins pattern, I jumped all over that! This pattern is clever, easy and adorable. You'll find a pattern for three different sizes, so you can mix and match throughout your home.
[divider]
The Pattern
What you see here is a gorgeous design by Yarnspirations from their new Lookbook, Harvest Crochet Pumpkins. The design is so clever in the shaping yet easy enough for a beginner to do. Just look how adorable they are on that mantle!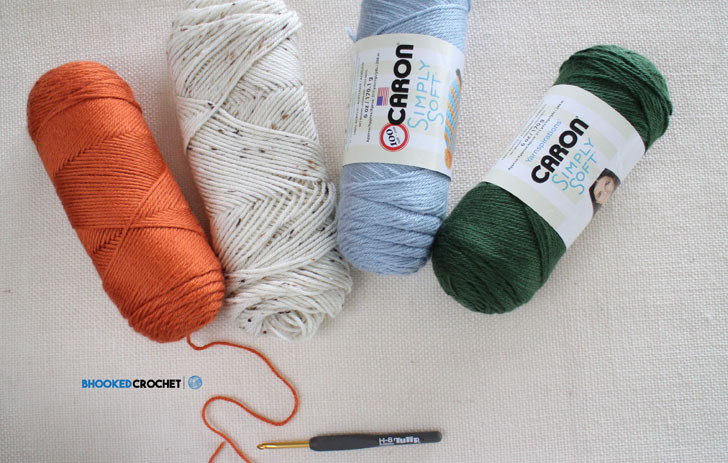 You'll use Caron Simply Soft to crochet your pumpkins so the color combinations are nearly endless. I found that the new Simply Soft Tweeds make a perfect crochet pumpkin! Start planning your color scheme now!
Caron Simply Soft Color Options
This pattern comes from Yarnspirations latest Holiday Cheer Lookbook. Out of all the great patterns they have published this year, this Lookbook has some of my favorites! You'll find projects for Thanksgiving and the holidays all in one place with patterns ranging from afghans to candle cozies. If you haven't seen the Holiday Cheer Lookbook yet, you should! You can find it here:
Holiday Cheer Lookbook from Yarnspirations
[divider]
If you want to make your own Harvest Crochet Pumpkins, here's what you'll need to do:
Purchase your supplies as specified on the instructions
That's it!
QUICK LINKS
Caron Simply Soft, Choose your Colors and Order From Yarnspirations
Harvest Crochet Pumpkins, Free Pattern Download
Step-by-step Video Tutorial with Brittany – Right Handed 
Step-by-step Video Tutorial with Brittany – Left Handed
[divider]
Disclosure: Please note that the links below are affiliate links, and at no additional cost to you, I will earn a small commission if you decide to purchase your supplies online. Please understand that I have experience with these products and I recommend them because they are optimal for this pattern, not because of the small commissions I make if you decide to buy them online. If you have received valuable information from me at any point, this is one easy way to pay it forward and say thank you for a job well done!
[divider]
Don't have Amazon Prime? Don't pay for shipping, start your free 30-day trial on me!
My husband and I have been Amazon Prime members for years. We order all of our household supplies, gifts, crochet supplies and even some food items from Amazon. We wouldn't be able to save money if we had to pay for shipping. Amazon Prime members get free two day shipping on eligible Prime items plus a ton of other perks such as free movie and TV show streaming and free music streaming.
If you've been thinking about getting an Amazon Prime membership, how about you start with a free 30-day trial on me? It's the least I can do for your support!
[divider]
How to Crochet the Harvest Crochet Pumpkins by Yarnspirations
This tutorial is also available in a left handed version. Click the link below to be directed to the left handed video on my YouTube channel.
How to Crochet the Harvest Crochet Pumpkins by Yarnspirations – Left Hand Tutorial with Brittany
[divider]
I hope you have as much fun making your pumpkins as I did and I would love to see them! Share your photos with me on Instagram using #bhooked or post them to my Facebook Page.
As always – I'm here for you. I'm not the kind of instructor that provides a resource and never comes back to it. You are my students and I'm here to help you through the process no matter when you are reading this post. If you find yourself stuck at any point, please leave a comment and I will do my best to help you through it!
Cheers!