It's easier than you might think.
One of the most commonly asked questions we get here is how to change the size of a hat pattern from, say baby sized to a size that will fit an adult. The good news is any hat pattern can be modified to fit whatever size you need, you just need to understand how that pattern comes together to make the necessary adjustments.
It's a simple process when we break it down into easy steps and that's what I'm going to do for you today – we'll look at six steps to taking a hat that's crocheted bottom-up hat (one that's worked from band to crown) and adjusting it for the perfect fit. Keep in mind that the steps we'll cover here work in either direction – taking a large hat and making it smaller or taking a small hat and making it bigger.
You'll Learn
Step 1: Testing your gauge
Step 2: Measure how many stitches per inch
Step 3: Measure your head circumference
Step 4: Find the number of stitches for your foundation or cast on
Step 5: Figure out your pattern repeat multiple
Step 6: Adjust Foundation or cast on to work with your repeat
resources
Mentioned in this Episode
---
Hat Sizing Chart | Our hat sizing guide
Head Circumference Chart | The Craft Yarn Council's hat sizing guide
Pixie Knit Hat | Pattern referenced in Example
Step 4 Equation | # sts per inch x head circumference = Foundation
Step 6 Equation | Foundation/ stitch multiple = whole number?
If yes, keep going with your foundation
If no, multiply your stitch multiple by the whole number in front of the decimal to get your foundation number of stitches.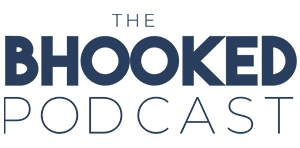 On the show, Brittany aims to inspire you and help you grow in your craft. Through her own stories and the stories of special guests, you'll discover tips and tricks to improve your crochet and knitting skills and find inspiration to make something that makes you happy.
When you want to kick back and learn from yarn industry experts, grab some yarn, your favorite cozy beverage and turn on The BHooked Podcast. There's never a shortage of all things crochet, knitting or yarn. Listen & subscribe on your favorite podcast player!
---
Have something great to share?
I'm always looking for knowledgeable and inspirational people in the crochet and knitting community to chat with on the show!