Is your crochet business more than a business?
When every aspect of your crochet business brings you happiness, that's how you know your business is more than just a business. For me, I love photography, graphic design, videography, project planning – the list goes on and on. My business incorporates all these things into a business I'm humbled and grateful to call my own. If you don't feel this way about your business as it is right now, what's one thing you can do to move in that direction?
I'm joined today by one of the sweetest and down to earth people I know, Kelly, from Knit Brooks and member of the OML Dream Team. We explore the importance of your business "being more than just a business" and she's even kind enough to share some of the lessons she's learned building a successful "maker" business at markets. I know you're going to love this one!
special guest
Kelly from Knitbrooks
Kelly is the knitter, crocheter, photographer, designer and wood carver behind Knitbrooks. Her online shop expanded to local handmade markets and knitwear pattern design and most recently she's branched out into hand carved crochet hooks. (And she has the cutest messy buns you'll ever see!)
Website | knitbrooks.ca
Instagram | @knitbrooks
Twitter | @knitbrooks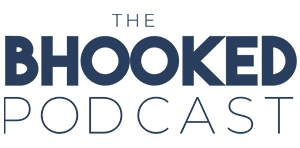 On the show, Brittany aims to inspire you and help you grow in your craft. Through her own stories and the stories of special guests, you'll discover tips and tricks to improve your crochet and knitting skills and find inspiration to make something that makes you happy.
When you want to kick back and learn from yarn industry experts, grab some yarn, your favorite cozy beverage and turn on The BHooked Podcast. There's never a shortage of all things crochet, knitting or yarn. Listen & subscribe on your favorite podcast player!
---
Have something great to share?
I'm always looking for knowledgeable and inspirational people in the crochet and knitting community to chat with on the show!