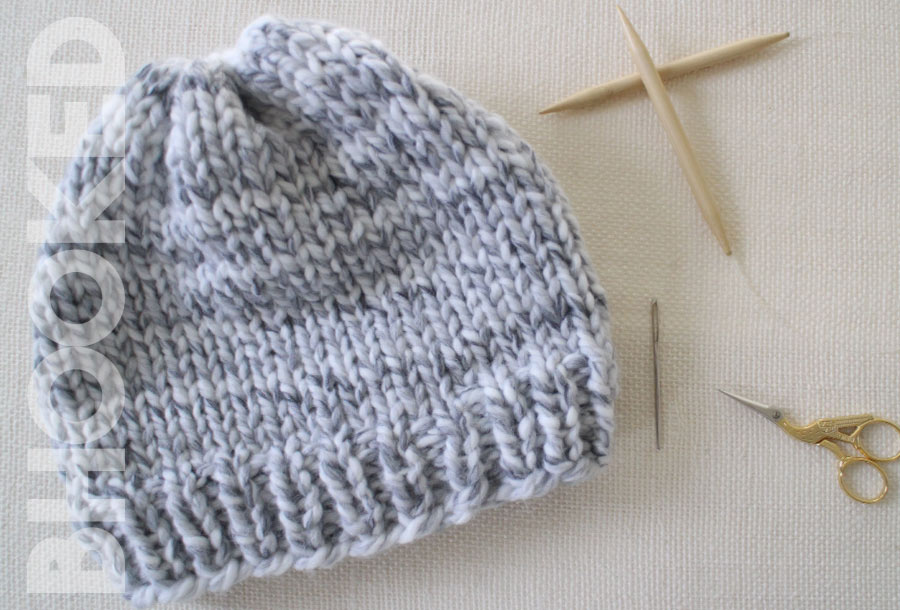 Your perfect first knit hat project!
Skill Level | Beginner
Finished Size | 17″ – 22″ Circumference; 9″ length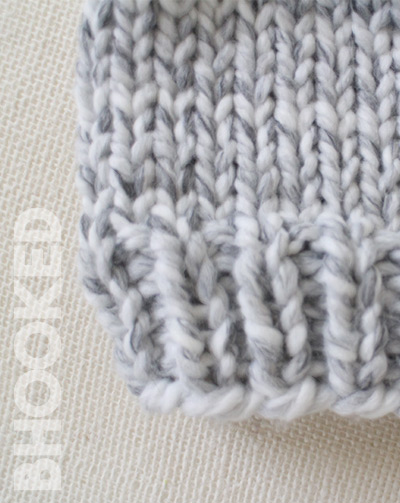 introduction
About this Pattern
---
If you haven't knit anything before and you want to know where to begin, you're in the right place. This is the pattern I recommend all new knitters start with.
Through this project, you'll learn the fundamentals of every knitting project: casting on, knit stitches and purl stitches. Sure you can learn all of these techniques separately, but here we believe new skills "stick" when incorporated into a project you can enjoy.
Before you begin, review this page entirely so you understand the full scope of the project. We've prepared a list of recommended supplies and abbreviations you will need to get started as well as a video tutorial and written instructions to complete this easy knit hat from start to finish.
getting started
Recommended Supplies
---
1 skein; 106 yds, Lion Brand Wool Ease Thick & Quick (Colorway pictured: Marble)
US 11 Circular Needle 16″ (measured tip-to-tip)
Yarn Needle, Large
Scissors
FAQ: Can I use a different yarn?
Sure, as long as it's in the same weight category. Check your gauge and adjust as needed so the sizing comes out right. The recommended yarn amount will likely be different too.
Yarn Substitution Resources:
3 Things You Must Do to Substitute Yarn
Not an Amazon Prime member? Get a free 30 day trial on us so you can unlock unlimited, free, two-day shipping on all sorts of stuff (yes, even yarn!) and instant access to thousands of movies, TV shows and books. Try Amazon Prime Free for 30 Days
Disclosure: As an Amazon Associate (and at no additional cost to you) I earn a small commission from qualifying purchases if you use the links below. Please understand I have experience with these products & recommend them because they are optimal for this pattern, not because of the commission I make as a result of you buying them. Using these links is not required but is a big support!
pattern details
Abbreviations
---
These abbreviations are industry standards and are used to simplify the pattern and making it easier to read. Whenever you see a "K" simply tell yourself to knit and whenever you see a "P", that's your cue to purl.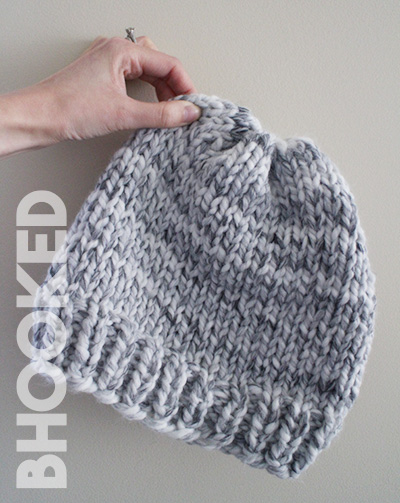 pattern notes
Additional Notes
---
Finished Size
17″ – 22″ Circumference;
9″ length
Gauge
7 sts x 4.5 rows = 2″
(stockinette stitch)
As a beginner, you won't need to worry too much about gauge right now. Just know it is a very important metric in the overall size of the easy knit hat. If your hat turns out much bigger or smaller than the size listed above, you may want to measure a section of the hat and compare that to the gauge. If you measure something different, that's why your hat size turned out different.
Gauge helps bridge the gap between my particular knitting style and yours. We're all unique! Fortunately, the easy knit hat is very simple and gauge usually doesn't cause any issues.
printable pattern
Need to print this pattern?
---
You'll find the full pattern for free here on this page. However, if you'd like to have a PDF version to print or save for offline use, you can purchase it from our shop.
the pattern
Written Instructions
---
Cast on 44 stitches using the long tail cast on.
Rounds 1-6: k1, p1.
Rounds 7-26: K all stitches.
Finishing
To close up the top, trim your yarn leaving a tail that is approximately 24″ long. Feed the tail through each stitch with your darning needle, removing them from your knitting needle as you go. Once you have fed the tail through every stitch, pull the tail to draw it up.
Pull it as tightly as you can without breaking your yarn. Using the darning needle, run the tail around the center of the closure several times to secure it. Run the tail through the center of the hat, tie a knot and trim.
Additional Notes
This pattern is currently available in one size.
If after making your first easy knit hat you want to make another in a different size, you can do so! To estimate the number of cast on stitches, you will need to know the hat circumference you need. Once you have this measurement, listen to episode 35 of the BHooked Podcast to learn how to calculate your cast on number of stitches.
---
By using this pattern, you agree to our terms of use:
This pattern is for personal use only. You agree not to modify, publish, transmit, sell, create derivative works or in any way exploit any of the content within this page, in whole or in part. If you wish to share this pattern, share a link to this webpage only. You may sell finished items made from this pattern.
Copyright, B.Hooked Crochet, LLC
see how it's done
Step-by-Step Tutorial
---
Video not displaying? Watch this tutorial on YouTube instead.
Left-Handed Tutorial on YouTube