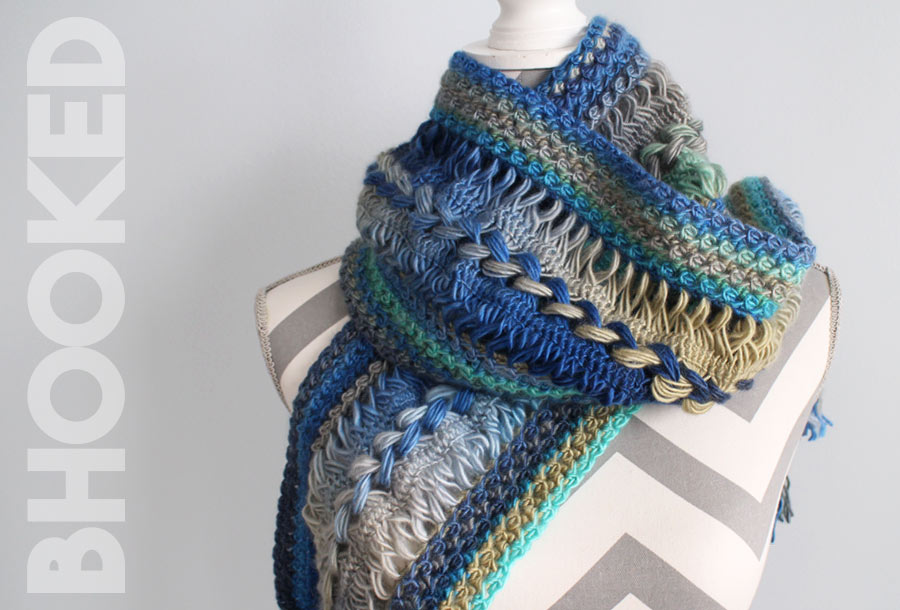 The scarf that will wow anyone who sees it.
Skill Level | Advanced
Finished Size | 7.5″ wide; 56″ long (including tassels)
Project sponsored by Red Heart Yarns.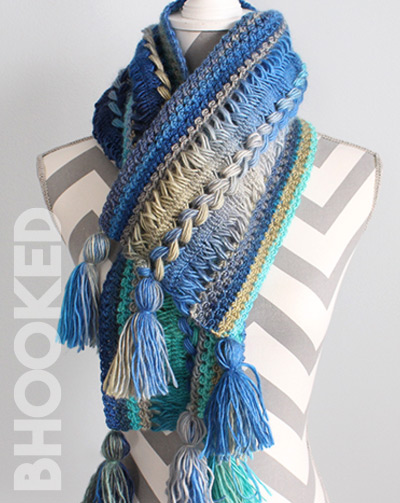 introduction
About this Pattern
---
If you're looking for a truly unique project that'll wow anyone who looks at it, you're in the right place. Our waves hairpin lace scarf combines the beautiful hairpin lace technique with a non-traditional crochet stitch for the perfect blend of awesome.
With this project you'll learn the basic hairpin lace stitch, a standard hairpin lace braid and get lots of practice with the woven stitch, one of our favorite textured stitches. Pair this project with a yarn like Red Heart Unforgettable for long, sweeping color transitions to really make it pop.
Before you begin, review this page entirely so you understand the full scope of the project. We prepared a list of recommended supplies and abbreviations you'll need to get started as well as a video tutorial demonstrating how to crochet the waves hairpin lace scarf and, of course, written instructions to walk you through it from start to finish.
getting started
Recommended Supplies
---
Approx 800 yds; Red Heart Unforgettable (Colorway Pictured: Regatta)
Adjustable Hairpin Loom set to 3″
5 mm Crochet hook
30 Locking Stitch Markers (or 30 scrap cuts of yarn)
Yarn Needle
Scissors
FAQ: Can I use a different yarn?
Sure, as long as it's in the same weight category. Check your gauge and adjust as needed so the sizing comes out right. The recommended yarn amount will likely be different too.
Yarn Substitution Resources:
The Ultimate Guide to Substitute Yarn
Not an Amazon Prime member? Get a free 30 day trial on us so you can unlock unlimited, free, two-day shipping on all sorts of stuff (yes, even yarn!) and instant access to thousands of movies, TV shows and books. Try Amazon Prime Free for 30 Days
Disclosure: As an Amazon Associate (and at no additional cost to you) I earn a small commission from qualifying purchases if you use the links below. Please understand I have experience with these products & recommend them because they are optimal for this pattern, not because of the commission I make as a result of you buying them. Using these links is not required but is a big support!
pattern details
Abbreviations
---
This pattern is written using standard US crochet terminology.
Ch Chain
Hk Hook
Rem Remaining
Rep Repeat
Sc Single Crochet
Sk Skip
St(s) Stitches
YO Yarn Over
Ws Woven Stitch**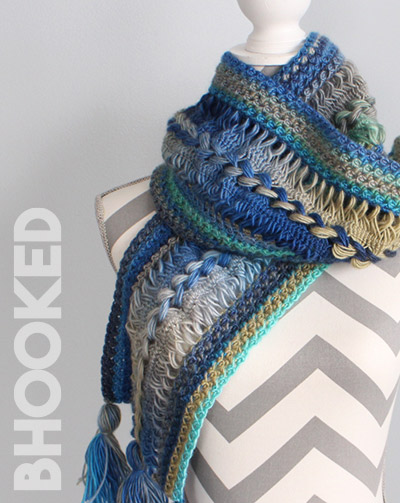 **Woven Stitch (Ws): YO and insert hk in designated st. YO and pull up a loop (three loops on hk). Pull last loop through middle loop. YO and pull through rem two loops. YO and insert hk in same st (three loops on hk). Pull last loop through rem two loops.
pattern notes
Additional Notes
---
Finished Size
7.5″ wide; 48″ long
(not including tassels)
Gauge
5 sts x 8 rows = 4″
(woven stitch pattern)

Our waves hairpin lace crochet scarf is worked in three main sections sections; the middle hairpin lace section, and two outer woven stitch sections. When finished, wet block your scarf for the best shape. If you're unfamiliar with this technique, have a look at our guide here.
Additional Notes: Chain one at beginning of row does not count as a stitch.
printable pattern
Need to print this pattern?
---
You'll find the full pattern for free here on this page. However, if you'd like to have a PDF version to print or save for offline use, you can purchase it from our shop.
the pattern
Written Instructions
---
Basic Strip
Step 1: Make two strips of hairpin lace with 375 loops on each side of strip.
Tip! Use locking stitch markers or scrap cuts of yarn to break loops into smaller groups. This will make it easier to manage in later steps.
Step 2: To finish strip, fasten off and slide loops from loom.
Join Strips
Step 1: Place two hairpin strips side-by-side taking care not to twist. Release one stitch marker (or scrap yarn) at a time. Place 5 loops from inside of one strip on hk. Then place 5 loops on hk from inside of other strip. Pull last five loops through first five loops.
Repeat: Rep step one until you reach the end of the strips. When you do, secure the "live loop" with a stitch marker so the braid doesn't come out. We'll come back to it later.
Crochet the sides
Row 1: Group first 3 outer loops on either side of the scarf. Twist them (as you would in broomstick lace) and fasten on. 3 sc in group of 3 loops. *Group next 3 loops and make 2 sc. Rep from * to last group of 3 loops. Make 3 sc in last group. Turn.
Row 2: Ch 1. 1 sc in first st. *Sk 1 st, ws in next st. Rep from * to last st. 1 sc in last st.
Repeat: Rep row 2 until woven stitch section measures approx 2″. Fasten off and repeat on the other side.
Finishing
Step 1: Make six identical tassels that measure approx 4″ long. Use tassel maker or see how to make a tassel by hand with our tutorial here.
Step 2: Secure a tassel to each corner of the scarf. Secure a tassel in the live braid loop held by the stitch marker. Secure last tassel in the middle of the scarf on the opposite side.
---
By using this pattern, you agree to our terms of use:
This pattern is for personal use only. You agree not to modify, publish, transmit, sell, create derivative works or in any way exploit any of the content within this page, in whole or in part. If you wish to share this pattern, share a link to this webpage only. You may sell finished items made from this pattern.
Copyright, B.Hooked Crochet, LLC
see how it's done
Waves Hairpin Lace Crochet Scarf Part One
---
Waves Hairpin Lace Crochet Scarf Part Two
Video not displaying? Watch this tutorial on YouTube instead.
Left-Handed Tutorial on YouTube
Right-Handed Tutorial on YouTube