This post is sponsored by Yarnspirations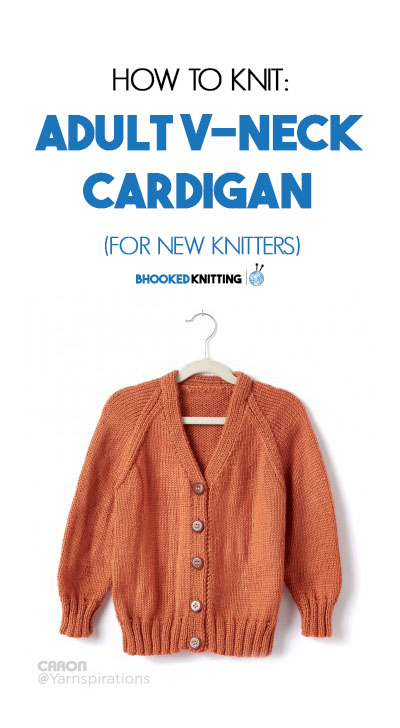 Never Knit a Cardigan Before? I have just the pattern for you!
Many of you know that I have been on a mission to knit and crochet more clothing – sweaters, cardigans, tops – you name it, I'm on the hunt for the best patterns to create and share with you. You can imagine my excitement when I found the Caron Adult V-Neck Cardigan from Yarnspirations. Not only is it free, but it's even listed as "the perfect everyday sweater". Count me in!
There are many things I love about this cardigan pattern – it's free, it's an easy level pattern, it's functional AND it uses one of the most affordable yarns that doesn't leave me constantly scratching, Caron Simply Soft.
Convinced yet?
I've teamed up with my friends at Yarnspirations to provide you with a step-by-step tutorial for knitting the Adult V-Neck Cardigan and I couldn't be more thrilled to share it with you today! In the tutorial, I'll demonstrate each stitch and technique required to complete your cardigan and I'll also incorporate some pattern reading tips. Don't be intimidated by the six-page pattern – it's totally doable for a new knitter with a little experience. My tutorial will teach you how to decipher all the text you see and turn that into functional stitches.
As I mentioned before, this pattern calls for Caron Simply Soft yarn and there are TONS of colors to choose from to spark your creativity and motivation. I was particularly drawn to burgundy for mine! To browse the color options and plan your cardi color, I recommend starting here:
Caron Simply Soft – Color Options
[divider]
Get The Pattern
The free pattern can be downloaded straight from Yarnspirations website. When you click on the link below, you'll be greeted with a page full of the information you need – the pattern download link and the supplies needed. You can even order your yarn right there on that page! Okay, here it is:
Caron Adult V-Neck Cardigan Pattern by Yarnspirations
This pattern uses knits and purls for the majority of the pattern and incorporates basic knitting decreases like the knit two together and purl two together, giving you the opportunity to practice these skills. You may also be introduced to a couple new decreasing techniques – the slip slip knit and purl two together through the back loop.
[divider]
If you want to make your own knit cardigan, here's what you'll need to do:
Watch my video tutorials to guide you through it
That's it!
[divider]
QUICK LINKS
Caron Simply Soft, Choose your Colors and Order From Yarnspirations
Caron Adult V-Neck Cardigan, Free Pattern Download
Step-by-step Video Tutorial (Part One) with Brittany
Step-by-step Video Tutorial (Part Two) with Brittany
[divider]
Disclosure: Please note that the links below are affiliate links, and at no additional cost to you, I will earn a small commission if you decide to purchase your supplies online. Please understand that I have experience with these products and I recommend them because they are optimal for this pattern, not because of the small commissions I make if you decide to buy them online. If you have received valuable information from me at any point, this is one easy way to pay it forward and say thank you for a job well done!
[divider]
How to Knit the Adult V-Neck Cardigan – Part One with Brittany
[divider]
How to Knit the Adult V-Neck Cardigan – Part Two with Brittany
[divider]
If you haven't done so already, have a look at the pattern and the video tutorial. Using the links above, you have access to all the information you need to decide if this is the right project for you.
If you need any help whatsoever, please don't hesitate to reach out! You can leave a comment below and I'll answer any questions that may come up!
Cheers!