Project Ideas
Clothing, Pillows
With the absence of traditional looking knit stitches, the knit herringbone stitch is perfect when you're looking for something completely unique. It's a tad challenging at first but completely worth the effort. It's not a reversible stitch making it a great choice for projects like clothing and pillows.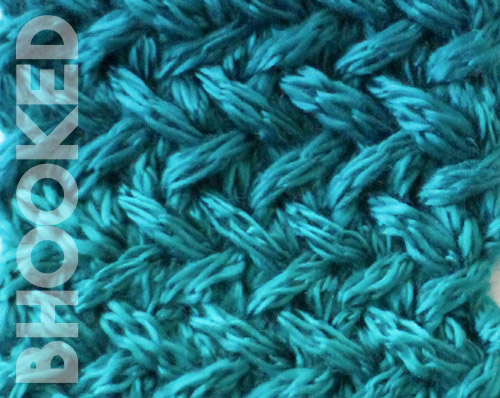 The knit herringbone stitch is best paired with a smooth yarn so the beautiful stitch pattern can be the focus. Although it's worked easiest with bulky and super bulky yarn, you can work this stitch with thinner yarn weights as well.
Supplies used in demonstration video:
Bernat Bargello Yarn (Discontinued)
US 15 Knitting Needles
Yarn Needle
Scissors
CO Cast On
K Knit
k-wise Knit-wise
P Purl
P2tog Purl 2 Together
Rep Repeat
RS Right Side
Sl1K Slip 1 knit-wise
St(s) Stitch(es)
WS Wrong Side
Cast on any even number of sts.
Row 1 (RS): K1. *Sl1k. K1. Insert left needle in slipped st and pass it over last K1. Don't slide it off. Insert right needle in slipped stitch k-wise. Wrap the yarn and complete as if to knit. Rep from * to end of row.
Row 2 (WS): *P2tog but don't slip off needle. P first stitch on the needle and slip both stitches. Rep from * to end of row.
Repeat: Rep rows 1-2 until your project measures the size you want. Bind off in pattern on the right side of the work.
---