Project Ideas
Blankets, Clothing
The knit stockinette stitch is the "classic" knit stitch that's recognized by even those who don't knit. It creates fabric with a nice drape making it a great choice for sweaters and other wearables. But you're not limited there! This is a great stitch for just about anything.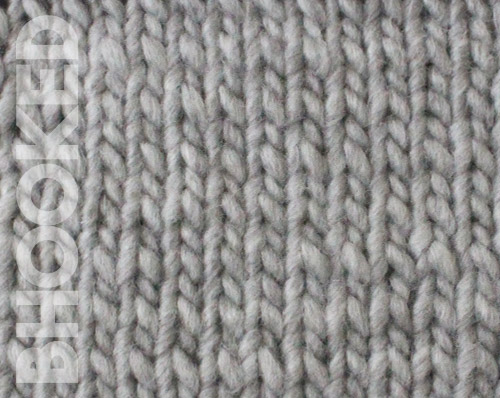 getting started
Suggested Supplies
The stockinette stitch, next to the garter stitch, is one of the most versatile stitches there is. Pair it with a smooth yarn of any weight for that traditional knit look or use a lightly textured yarn for even more visual interest.
Supplies used in demonstration video:
Bernat Roving Yarn
US 11 Knitting Needles
Yarn Needle
Scissors
CO Cast On
K Knit
P Purl
St(s) Stitch(es)
Additional Notes: You'll notice in the tutorial there is a garter stitch border around the swatch I'm making. The stockinette stitch has a tendency to curl and this border helps reduce the curl. If you want to work a border around your swatch or project, work the garter stitch a few rows initially. Then, after you start the stockinette stitch pattern, knit the first few and last few stitches (even if you're on a purl row).
Cast on any number of sts
Row 1: K every st.
Row 2: P every st.
Repeat: Rep last row until your project measures the length you want.
Bind Off
Work a standard knitting bind off.
---