Do you Stitch Away Stress and Unwind with crochet and knitting?
When was the last time you picked up your current project after a long hard day? I'm guessing the answer to this question was sometime this week. We all have so many stressors in life and getting through them means we need to have something we can go to that melts them all away. Sometimes we don't even realizing we stitch away stress! For me, this is crochet and knitting – "stitch time" I call it and it is an absolute must.
April is stress awareness month and the Craft Yarn Council is celebrating the Stitch Away Stress movement once again. I feel so compelled to share the health benefits of knit and crochet that I've aligned April's podcast topics around it! Crochet has the power to change our life, I strongly believe that because it has changed my life in so many ways. Let's pass that along – give someone else the gift of crochet this month.
special guest
Sarah of the Craft Yarn Council
The Craft Yarn Council (CYC) represents the leading yarn companies as well as other consultants and companies in the yarn industry. They have sponsored a variety of promotional and educational programs like the Certified Instructors Program and I Love Yarn Day.
Website | craftyarncouncil.com
Instagram | @craftyarncouncil
Twitter | @cycyarncouncil
resources
Mentioned in this Episode
---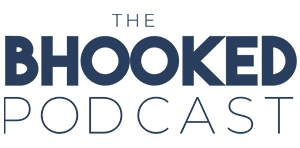 On the show, Brittany aims to inspire you and help you grow in your craft. Through her own stories and the stories of special guests, you'll discover tips and tricks to improve your crochet and knitting skills and find inspiration to make something that makes you happy.
When you want to kick back and learn from yarn industry experts, grab some yarn, your favorite cozy beverage and turn on The BHooked Podcast. There's never a shortage of all things crochet, knitting or yarn. Listen & subscribe on your favorite podcast player!
---
Have something great to share?
I'm always looking for knowledgeable and inspirational people in the crochet and knitting community to chat with on the show!