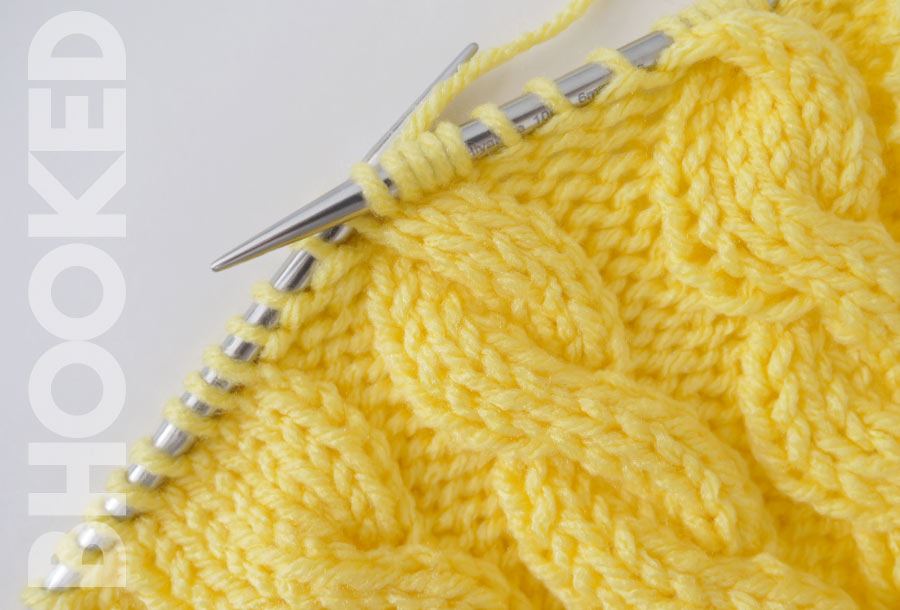 Cables are a great way to improve your skills and take your knitting to the next level.
In this guide you'll learn the fundamentals of knitting cables every beginner needs to know.
Welcome to the Beginner's Guide to Knitting Cables!
This guide is designed to cover all aspects of knitting cables including breaking them down so you can see just how easy they are to work. If you have never knit a cable before or have been unsuccessful with them in the past, this is the guide for you.
There are a few things to know as a beginner knitter diving into the world of cables. First and foremost, they're not nearly as complicated to knit as they look.
In it's most basic form, a cable is the result of working stitches out of order.
Even though they look incredibly complicated, like you have to be a real pro to make them, they're not and you don't. A basic cable pattern consists of a simple repeat with one of the rows working stitches out of order.
Once you know how to knit stitches out of order, you can knit virtually any cable you want.
The number of stitches and how you twist them make each cable unique but never forget, a cable is just the result of twisting stitches.
You need a cable needle to knit cables.
To switch the order of the stitches on your needles, you need an additional tool called a cable needle. They come in a few shapes and sizes and although there may be benefits to each, we find it all comes down to personal preference. You can see a U-cable needle in action in the additional resources section of this guide (down below). We made a video demonstrating how to knit some basic cables.
Here are a few cable needles we've tried, loved and would recommend to a friend:
Disclosure: As an Amazon Associate (and at no additional cost to you) I earn a small commission from qualifying purchases if you use the links below. Please understand I have experience with these products & recommend them because they are optimal for this pattern, not because of the commission I make as a result of you buying them. Using these links is not required but is a big support!
If you don't want to buy yet another notion, double pointed needles can work as a cable needle in a pinch.
You can knit a cable with any yarn but that doesn't mean you should.
The bottom line is this: if you're going to do the extra work to knit cables, you want to see the result.
We recommend knitting cables with a smooth yarn because it will make it easier to see the stitches to knit and it'll make it easier to see (and admire) the cable pattern. Something plied or even a smooth roving yarn are our go-to's.
Make a swatch before diving into a project.
Trust us, you'll be glad you did. It's not that knitting cables is hard, but there's a real benefit to getting the motions down before using them into a project. Namely, tension.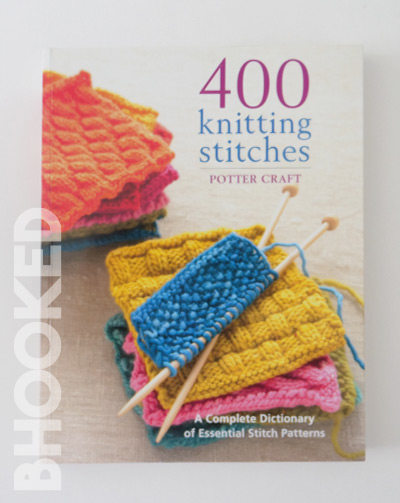 We think it's best if you first make several swatches from a knitting stitch book. We recommend a book called, 400 Knitting Stitches, a Complete Dictionary of Essential Stitch Patterns by Potter Craft.
This book has a great section on knitting cables. There are more than 35 different cable stitch patterns to practice with from the very basic to some fancy cables too. But what we love most about this book is that it gives written instructions and a description of how to do the cable twist. It's perfect for beginner cable knitters.
By the way, if you buy the book through Amazon with the button above, at no additional cost to you, we'll receive a small commission. We're required to disclose that but the commission is not why we recommend it. We learned how to knit cables from making swatches with this book and if it worked for us, it'll probably work for you too.
In any cable knitting pattern, you'll find a few new abbreviations.
Cables in pattern form look more like a mathematical formula than an abbreviation but they're way less complicated. They'll look something like this:
C#(f) or (b)
where the "C" stands for cable and the # appears as an actual number. The "F" stands for "front" and "B" stands for "back", both of which tell you where to hold the cable needle while you're knitting but it also let's you know which way the cable will lean. More on that in a moment. Here's an example:
C6f
In other words, cable six stitches to the front (or hold your cable needle to the front).
You may also see a cable written with a little more detail like this: Cable 6 front (k3, k3) which means the same thing.
The direction of the cable needle determines how the cable will lean.
When you hold the cable needle to the front of the work, the cable will lean to the left.
When you hold the cable needle to the back of the work, the cable will lean to the right.
A few words about knitting cables on circular needles.
When you work stitches out of order, they get a little snug on the needles. This usually isn't an issue when knitting a flat piece, but it can be a pain when knitting cables in the round.
The round with the cable twist will suddenly "shrink" so the stitches no longer stretch the same around the circumference of the circulars. This can make it impossible to continue knitting the round because the stitches simply won't fit around the circulars any more.
The best way to avoid this is to make sure the project you're working in the round has a circumference that's at least two inches bigger than the circumference of the circulars but if you already have a project started on circulars and you can't finish the round, you may need to join double pointed needles to finish the project. We have a guide on that too.
Now let's say you're a little ambitious and want to create your own "in the round" project with cable instructions found in a book like the one we recommended earlier. The bottom line is it doesn't translate directly.
Since you never flip the work while knitting in the round, you're always looking at the right side of the work. This means knitting cables in the round won't follow the same exact pattern as the cable worked in rows.
A good rule of thumb to turn an "in rows" cable to an "in the round" cable is to follow the instructions for the right side of the work as they appear in the pattern and work the opposite stitch (knit for purl or purl for knit) for the wrong side rows.
What about the little holes?
When you twist stitches and work them out of order it causes a little hole. It's completely normal and you aren't doing anything wrong if you notice this. After a few rows or rounds you won't even notice them anymore.
You may also notice a stretching or loosening of the the stitches involved in the cable. Again – completely normal.
Do your best to maintain a consistent and steady tension as you work the cable and it'll turn out fine. It'll feel weird at first which is why we recommend you make some cabled swatches first.
project ideas
B.Hooked patterns with cables