Have you ever considered yarn as an artistic medium?
For many of us the yarn will guide the project, meaning only after we see and feel the yarn do we know what to make with it. For some though, the entire concept revolves around a yarn base (a blend of fibers) that inspires color, texture and eventually a project. This is the approach taken by the team at KnitCrate when then plan for their monthly subscription boxes.
Today's Guests
I'm joined by, Rob and Hannah, from KnitCrate and let me just say – I learned so much from them! Rob is incredibly passionate about business and he speaks about how business is his artistic medium. Extremely interesting for a passionate entrepreneur! Hannah, tells us all a bit about fashion forecasting and the process that goes into planning the crates months in advance. Perfectly relatable to bloggers and shop owners who plan a seasonal catalog of items.
special guest
Rob & Hannah from KnitCrate
Knitcrate is easily recognized by the pretty teal boxes and envelopes full of yarn. Every month, members receive a new box with hand dyed yarn and a crochet & knitting pattern to choose from.
Website | knitcrate.com
Instagram | @knitcrate
Twitter | @Knitcrate
resources
Mentioned in this Episode
---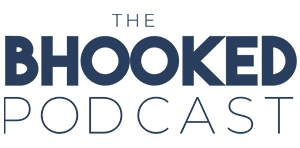 On the show, Brittany aims to inspire you and help you grow in your craft. Through her own stories and the stories of special guests, you'll discover tips and tricks to improve your crochet and knitting skills and find inspiration to make something that makes you happy.
When you want to kick back and learn from yarn industry experts, grab some yarn, your favorite cozy beverage and turn on The BHooked Podcast. There's never a shortage of all things crochet, knitting or yarn. Listen & subscribe on your favorite podcast player!
---
Have something great to share?
I'm always looking for knowledgeable and inspirational people in the crochet and knitting community to chat with on the show!