Do you struggle with finding the motivation to finish a project?
My friend, you are not alone! We all need a little staying motivated through a long project sometimes. The afghan that's been a WIP (work in progress) for three years; the scarf you started last summer that would currently only keep your daughter's teddy bear warm. We all have them hiding in our house just waiting to become something great.
At any given time I have between 5 and 10 WIP's, some of which have been around for months…or even longer. I dream up a new project and leave the old ones in the dust. It happens to the best of us! Today I'm here to not only tell you that it's okay to have projects lingering around the house but also to share 13 different motivational tactics to help you power through when you need to just get it done.
resources
Mentioned in this Episode
---
13 Motivational Tactics to Try:
Crochet small projects in between crochet sessions on big project
Watch TV
Pick another project and switch back and forth
Stop to weave in the ends to break things up
Start another project (or two!)
Make dishcloths for a quick reset
Make embellishments to spark creativity and feel accomplished
Go back to your "why" and find the need to finish
Listen to music or a podcast
Plan the next project
Take a break from working on it
Set a number of rows or skeins to complete before putting it down for the day
Use color transitions to keep your interest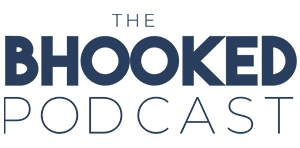 On the show, Brittany aims to inspire you and help you grow in your craft. Through her own stories and the stories of special guests, you'll discover tips and tricks to improve your crochet and knitting skills and find inspiration to make something that makes you happy.
When you want to kick back and learn from yarn industry experts, grab some yarn, your favorite cozy beverage and turn on The BHooked Podcast. There's never a shortage of all things crochet, knitting or yarn. Listen & subscribe on your favorite podcast player!
---
Have something great to share?
I'm always looking for knowledgeable and inspirational people in the crochet and knitting community to chat with on the show!