Project Ideas
Blankets, clothing
The knit chevron stitch is a great way to add dimension to your knitting projects. It's dense, yet stretchy making it great for wearables.
Post sponsored by Red Heart Yarns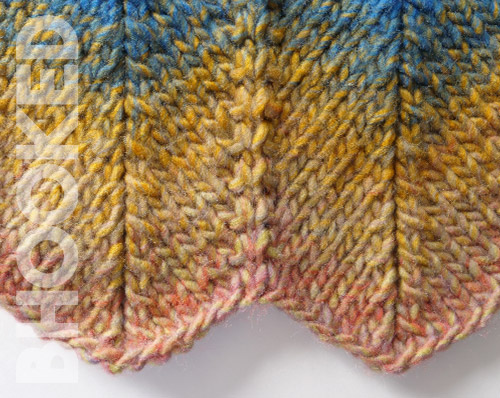 getting started
Suggested Supplies
The knit chevron stitch is a versatile stitch, so you can pair it with just about any yarn in your stash from medium to super bulky, smooth to slightly textured.
Supplies used in demonstration video:
Red Heart Colorscape Yarn, Rome
US 10.5 Knitting Needle
Yarn Needle
Scissors
K Knit
k2tog Knit Two Together
kfb Knit Front Back
P Purl
Rep Repeat
RS Right Side
S1 K1 psso Slip One Knit One Pass Slipped Stitch Over
St(s) Stitch(es)
WS Wrong Side
Cast on a multiple of 14 and add two at the end.
Row 1 (ws): P all sts
Row 2 (rs): K, kfb, *k4, S1 K1 psso, k2tog, k4, kfb twice. Rep from * to last two sts. Kfb then k last st.
Repeat: Rep rows 1 and 2 until your project measures the length you want.
Bind Off
If you want a straight (flat) edge at the bind off edge (this will not match cast on edge) bind off with knit stitches.
If you want the bind off edge to have the same "zig zag" shape as the cast on edge, you will need to bind off in pattern on a right side row, using row 2 as your guideline.
Refer to the video tutorial for step-by-step instructions on this bind off. You can find it at minute mark 13:30!
---
see how it's done
Step-by-Step Tutorial