Want to learn more about colorwork knitting?
It is such a beautiful way to shake up your knitting routine and although there are certainly advanced colorwork knitting techniques, there are some simple ones too. When you're not sure how to make your next project stand out, use simple stitch patterns and let the color shine.
In this episode of The BHooked Podcast you'll learn important lessons in colorwork knitting from the very basic to the more complex. Ella Austin, author of the book, Beginners Guide to Colorwork Knitting: 16 Projects and Techniques to Learn to Knit with Color, is here to be your colorwork knitting coach. She discusses different ways to incorporate color into your knitting projects and shares where she gets her color inspiration.
special guest
Ella Austin
Ella has always loved knitting and started her designing journey just a few years after starting her family. She now designs for magazines and yarn companies and her Etsy shop.
Ravelry | BomBella Designs
Instagram | @bombellaella
resources
Mentioned in this Episode
---
A Beginner's Guide to Colorwork Knitting | Ella's book!
The book link above is an affiliate link through Amazon. As an Amazon Associate, I earn a commission for qualifying purchases made through my links at no additional cost to you. I appreciate your support!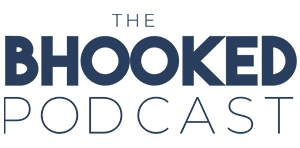 On the show, Brittany aims to inspire you and help you grow in your craft. Through her own stories and the stories of special guests, you'll discover tips and tricks to improve your crochet and knitting skills and find inspiration to make something that makes you happy.
When you want to kick back and learn from yarn industry experts, grab some yarn, your favorite cozy beverage and turn on The BHooked Podcast. There's never a shortage of all things crochet, knitting or yarn. Listen & subscribe on your favorite podcast player!
---
Have something great to share?
I'm always looking for knowledgeable and inspirational people in the crochet and knitting community to chat with on the show!