For the first time in The BHooked Podcast history, we're hitting the pause button and planning for growth.
But this isn't goodbye! The BHooked Podcast will return with episode 145 as soon as we can. I explain all the details in this episode, including why I'm hitting the pause button and what you can expect in the coming months from B.Hooked as well as what to expect from the show when it returns. When this episode was recorded, I hoped to return in 2020 with new episodes of the show. Well, we all know how 2020 went and I'm still working to bring the show back. Be patient, friend. I will return!
If you want to get your crochet podcast fix in the meantime, browse through the archives of this podcast which includes more than 143 hours of inspiration, motivation and tips from the industry's finest. See you soon, friend.
resources
Mentioned in this Episode
---
Podcast Survey | Take the survey to share your wants and needs for when the show returns
#144 Hitting The Pause Button and Planning For Growth
Brittany: Well hello there friend, welcome to episode 144 of The B.Hooked Podcast and by now you've read the title so the cat is officially out of the bag, but don't worry I'm not going anywhere, I'll still be here helping you get better at your craft in other ways.
Honestly I'm hitting the pause button on the show as I alluded to in the last episode with Brittany from Ideal Me. You heard me mention in that discussion that she said some things that I really needed to hear and that's because I've been battling with this decision for awhile. Truth is, I've battled and fought with this decision harder than any other decision I've made this year, maybe any decision that I've made so far and that's because you know how much I love the podcast, how valuable it is for me to be able to connect with other makers and other crocheters and knitters and be able to share that conversation with you is just so incredibly amazing.
So I want to start things off by saying, this show is absolutely coming back. It's not going anywhere permanently; this is not goodbye. I could never just not do a podcast. It's become such a big part of my life and something that I really look forward to and I know it's something that you look forward to as well, and I just couldn't let you down in that way. To me a weekly show isn't just a commitment that I've made to myself but it's also a commitment that I've made to you and that is something that I don't take lightly.
However, I have finally realized through valuable conversations and heart to hearts that in order for me to keep my commitment to you, to be the person here motivating you and helping you get better at your craft, I need to shift my focus briefly to making the B.Hooked community the place that has everything you need. First and foremost I want to assure you again, this podcast will continue with episode 145. However, for the first time in the B.Hooked Podcast history I'm hitting the pause button for a few months. There's honestly 3 reasons behind this and that's what I want to share with you today, as well as what to expect when the show returns.
If you've been listening for awhile I'm sure you've picked up on the fact that I'm a little nutty when it comes to planning, time management, and productivity. So you know if there was a way to continue this weekly show, while also building these exciting new resources, I'd be the one to figure out how to do it. And trust me I have tried to figure out how to do that the past couple of months and I just realized the honest truth, for me multitasking isn't something I strive to be great at. In my experience for me personally multitasking means that I'm doing several things kinda lousy and that's not the experience I want for you when you visit BHooked.com and when you interact with me on social media, I want to be fully present for you and be the best version of myself, provide the best resources that you can possibly find on the internet. I want you to have the best experience, one that you are confident to recommend to a friend.
I know, I know, this is a little cryptic, you can see that things are going to happen but you're like "come on Brittany, tell me what's up". Well here is as much information as I can offer you right now.
A couple months ago I hopped on a WIP Wednesday live show with Lee from Coco Crochet Lee. She does those on Instagram live. Well, on that call for the first time I said out loud that BHooked.com is getting a new look. If you've been to the website recently you may have seen a survey at the top of the page so that's really no secret, but it is something that's been going on for several months. Actually, in April of this year is when that undertaking started. To be honest, a lot of things prompted this, but the big reason is that currently there are over 500 posts and pages on BHooked.com ranging from free patterns, to podcast episodes and pretty much everything crochet and knit related in between. Well, every single one of those posts has hours of work invested into it, and it has something valuable that I believe will help you accomplish your goals to get better at your craft. However, I've never quite been satisfied with how those posts, how those resources are arranged and how easily you can find them on the website. So that's the first big thing changing during this pause. BHooked.com is getting a new look that will make it easier for you to get exactly what you need from me. So that's the first reason that prompted this break.
Now although I've been working on the new designs since April so much of what I'll work on during this break, is very much in its infancy so I'm kind of hesitant to share too many details for fear that things might change a little bit between now and when the podcast comes back. I certainly wouldn't want to get your hopes up or set a certain expectation just yet, because I'm not a 100% on some of these details. But here's the second reason for the pause, again a little cryptic but that's only because I want to be a woman of my word and right now I don't have all the answers, but when the show returns I promise you'll hear all about it in full detail.
So the second reason, what I'm able to share with you, is to finally build something my community has basically been begging me for for a long time, 2 things actually. A better way to learn from me in an environment where access to me is possible and access to ad-free resources . So here's the deal with the ads. I've never been too shy to tell you that this is what I do for my full time job. If you are new to this show, the cliff notes version of that is that I worked a regular 9-5, actually 8:30 to 4:30, from college to 2017 while working on B.Hooked in my spare time, just sort of for fun in the background. But when passion and profit surpassed my day job, it made sense for me to do this full time, so I made the leap leaving that comfy job and going full time with everything I do here. That means I depend on income from B.Hooked to support my family; myself, and my husband. That's where the ads come in, they bring in income so all the resources you find on the website and the YouTube channel are free for you to watch and consume and use.
However, I understand that some would rather have a different experience; one that is ad-free, more convenient and more perks like having access to me, to ask your questions and learn from me in a more hands on approach. So that's the second reason for the pause. So I can finally put 100% of my focus into building the things I know my community needs and wants from me. Now that being said, it is extremely important for me to continue providing free resources for anyone to use, so that will continue. Free patterns are still a thing; free tutorials that's still a thing. Those aren't going anywhere. They will continue from now until forever, but I do want to offer something in addition to those free resources for the people who are looking for a more hands on, ad-free approach. So not only will these resources help serve a direct purpose and a need in the B.Hooked community, but I believe they will also serve an integral role in B.Hooked in the sense of potentially building a small and mighty team.
I've always been open with you in saying that I'm a one woman show. I wear all the hats here at B.Hooked and to be honest I love every single moment of it. But something that I have always known but try to ignore is you can't do it all; you can't do everything well. However, I also understand that it's a pretty big responsibility and undertaking to bring on a part time or maybe even a full time employee. That's a decision I don't take lightly and that is why it hasn't happened as of now. However, I do know that with this addition, this is possible; it is definitely possible to bring on somebody to help me make all of these crazy dreams that I have a reality and resources for you to use to help you get better at your craft, to help motivate you and accomplish your crafting goals.
The last reason is to do a little restructuring if you will for the show. To be completely honest I don't know exactly what that looks like right now because I need your help with this. Last year I did a survey which allowed you to tell me exactly what you want out of the show and those responses very much shaped the way the show operated this year. Well, I want to do that again for when the show returns because that was really really helpful information for me and it allowed me to produce a show that you actually want to listen to. The survey this year again will ask a handful of questions, that when answered will give me insight into your wants and needs for this podcast. We continue to be one of the very few maybe even the only crochet podcast out there. With that comes a pretty big responsibility for me to find the perfect balance between what you want as a listener and what I can provide as a host.
So if you have some time between now and the end of the year, and you want to give me your feedback just visit BHooked.com/podcastsurvey and remember every detail matters; every answer will be read and used to form the new BHooked Podcast when it returns.
So that's the last question, when will it return? Another question I've been really battling to answer. As much as I hate to leave it unanswered and open-ended like this, I'm afraid that's the best thing I can do right now. The things that I'm building during the break are completely new territory for me, so I really don't have a clear idea of how long they will take.
Here's what I do know: I hope to take some much needed family time during the month of December, and hit the ground running in the new year with these new things. Some of these things are progressing very nicely and won't require a lot of time, others will require a little bit more time for me to invest and develop and build them. So although I can't promise a date for episode 145, I can promise you this: I will work as diligently as possible so you are not without a crochet podcast too long.
So, here's the best thing for you to do right now, because the last thing that I want you to do is to completely forget about this podcast. I mean believe me that's actually been my biggest fear with making this decision, that you'll completely forget about the podcast and there will be crickets when I come back! I know that totally won't be the case. We often fear the absolute worst, and what we fear usually doesn't actually happen. But the best thing to do so you don't miss that episode is to subscribe to the show on whatever podcast player you are listening to right now, because when you do that, your podcast player will likely alert you when new episodes are available. So you'll see episode 145 when it publishes.
Another thing you can do is follow me on social media wherever you like to hangout. I'm on Facebook and Twitter @bhookedcrochet and Instagram @bhooked and there will most definitely be an announcement on all of those platforms, when that new episode is available. The cool thing is that this podcast has been running for 143 solid episodes. That's a little shy of 143 hours of crochet inspiration, and knowledge, and things that you can go back and listen to. So I would encourage you during this break if you feel the need for a crochet podcast maybe dive back into the archives, listen to some of those earlier episodes that are still very relevant and applicable today, to find the inspiration; to find some help with the things that you might be struggling with as it relates to crochet and knitting and maybe even starting a business, or that sort of thing.
Now the big takeaway from this episode is this: it's ok to take a break from something if it means serving better for you bloggers out there, or if it means refining your purpose for the thing you're taking a break from. I think that's something we all as crocheters and knitters can relate to.
Alright, so please don't forget to checkout BHooked.com/podcastsurvey to answer some short questions about how I can make this podcast even better for you when it returns next year. Subscribe on your podcast player, so you don't miss that next episode, go back into the archives and listen to some of those amazing episodes from the past, follow me on Social so you can see that announcement when it comes out.
Now that does it for this podcast episode. Thank you so much for tuning in and even more for sticking with me here to the end of the episode.
Happy Thanksgiving for my friends here in the states. Happy Holidays to all who celebrate. Cheers to an epic New Year!
I'll see you soon friend.
The BHooked Podcast Episode 144: Hitting The Pause Button and Planning For Growth
Podcast Transcript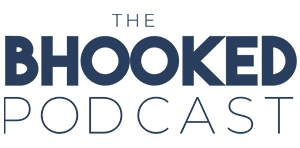 On the show, Brittany aims to inspire you and help you grow in your craft. Through her own stories and the stories of special guests, you'll discover tips and tricks to improve your crochet and knitting skills and find inspiration to make something that makes you happy.
When you want to kick back and learn from yarn industry experts, grab some yarn, your favorite cozy beverage and turn on The BHooked Podcast. There's never a shortage of all things crochet, knitting or yarn. Listen & subscribe on your favorite podcast player!
---
Have something great to share?
I'm always looking for knowledgeable and inspirational people in the crochet and knitting community to chat with on the show!