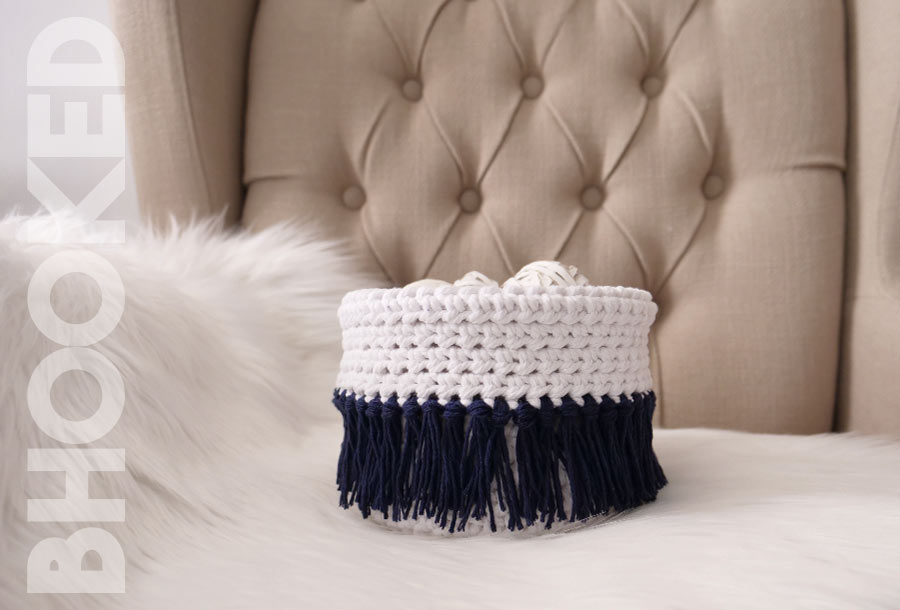 Finally, a crochet basket that's sturdy enough to hold what you want (and doesn't collapse).
Skill Level | Easy
Finished Size | 5″ diameter; 5″-6″ height (depending on fold)
introduction
About this Pattern
---
If you're tired of crocheting baskets you never use because they don't hold their shape, you're in the right place. This sturdy crochet basket won't bend, bulge or fall over!
With this project you'll work with macramé cord, the secret to the sturdiness of this basket. It's a bit of a hand work out to be completely honest, but if you break it up into a few short crochet sessions, you'll have it finished without hurting your hands.
Before you begin, review this page entirely so you understand the full scope of the project. We have a list of recommended supplies and abbreviations here on this page as well as written instructions and a tutorial to walk you through our sturdy crochet basket from start to finish.
getting started
Recommended Supplies
---
Approx 109 yds; 3mm Macramé cord
Approx 28 yds; Lion Brand Re-Up yarn (Colorway pictured: Navy)
6 mm Crochet Hook
Yarn needle
Scissors
FAQ: Can I use yarn instead of macramé cord?
Sure. You can substitute with a bulky weight yarn but keep in mind, this basket gets its sturdiness from the macramé cord.
Not an Amazon Prime member? Get a free 30 day trial on us so you can unlock unlimited, free, two-day shipping on all sorts of stuff (yes, even yarn!) and instant access to thousands of movies, TV shows and books. Try Amazon Prime Free for 30 Days
Disclosure: As an Amazon Associate (and at no additional cost to you) I earn a small commission from qualifying purchases if you use the links below. Please understand I have experience with these products & recommend them because they are optimal for this pattern, not because of the commission I make as a result of you buying them. Using these links is not required but is a big support!
pattern details
Abbreviations
---
This pattern is written using standard US crochet terminology.
Ch Chain
Cont Continue
Hdc Half Double Crochet
Hk Hook
Rem Remaining
Rep Repeat
Sk Skip
Slst Slip Stitch
St(s) Stitch(es)
pattern notes
Additional Notes
---
Finished Size
5″ diameter (opening); 5″-6″ height (depending on fold)
Gauge
First four rounds = 4″
diameter
This pattern recommends macramé cord for the sturdiest results. It can be challenging to crochet with because it doesn't have a lot of stretch to it but that's what makes it really great for sturdy baskets.
The pattern is worked in rounds without joining. You will need to mark the first stitch of each round to keep you on track.
The fringe is optional and you may substitute any medium weight yarn you prefer.
printable pattern
Need to print this pattern?
---
You'll find the full pattern for free here on this page. However, if you'd like to have a PDF version to print or save for offline use, you can purchase it from our shop.
the pattern
Written Instructions
---
Round 1: Ch 3. 7 hdc in 3rd ch from hk. Do not join. Cont working in a spiral. (8 sts)
Round 2: 2 hdc in every st. (16 sts)
Round 3: *1 hdc in next st. 2 hdc in next st. Rep from * to end of round. (24 sts)
Round 4: *1 hdc in next 2 sts. 2 hdc in next st. Rep from * to end of round. (32 sts)
Round 5: *1 hdc in next 3 sts. 2 hdc in next st. Rep from * to end of round. (40 sts)
Round 6: *1 hdc in next 4 sts. 2 hdc in next st. Rep from * to end of round. (48 sts)
Rounds 7-23: 1 hdc in every st. (48 sts)
At the end of round 20, make sure you have at least 1 yard remaining. Make 1 sc in the next 4 sts followed by 2 slst in the next 2 sts. Fasten off.
Finishing
Step 1: Fold top edge of basket downward making a fold that's about 2".
Step 2: Make 4 cuts of yarn equal to 6".
Step 3: Holding the 4 cuts together, fold in half.
Step 4: Insert hook through any stitch of the last round from the underside of fold, outward.
Step 5: Place folded cuts of yarn on hook and pull through stitch.
Step 6: Remove hook and pull ends through loop. Tighten to secure.
Repeat: Rep steps 2 through 6 for every stitch of the final round.
---
By using this pattern, you agree to our terms of use:
This pattern is for personal use only. You agree not to modify, publish, transmit, sell, create derivative works or in any way exploit any of the content within this page, in whole or in part. If you wish to share this pattern, share a link to this webpage only. You may sell finished items made from this pattern.
Copyright, B.Hooked Crochet, LLC