The Complete Beginner's Guide
How to Crochet
Welcome to our beginner crochet guide.
It's our mission to teach you how to crochet because we believe yarn can do more for you than just make a pretty thing. Your new journey begins here!
---
In this guide you'll find the essentials for you to dive into crochet for the first time. We'll mention yarn and hooks as well as a few other supplies you'll need then dive into the first two techniques you need to know to start any project. From there we'll show you the four basic stitches (which are the foundation for many other stitches) and ease into the finishing techniques. From there we'll give you some inspiration and suggest a few patterns for you to complete your first crochet project.
Happy hooking!
What You Need to Get Started
The greatest thing about crochet is you need very few supplies to make something incredible. With some yarn, a crochet hook, a yarn needle and a trusty pair of scissors, you can make just about anything you want.
The Right Yarn
When it comes to crocheting for the first time, not all yarn is created equal. The texture and smoothness of a yarn will determine how easy it is to work with. As a beginner, you have enough to worry about – use a smooth, medium weight yarn and make it much easier on yourself!
We recommend looking at…
Lion Brand Heartland
Red Heart Soft
Caron Simply Soft
Loops & Threads Impeccable
I Love This Yarn
All of these yarns have a few things in common. They're all a plied (which means there are a few strands twisted around one another), they're all smooth, and they're all medium weight. So while you don't have to get these yarns specifically, at least look at them and choose a yarn that's a similar thickness and smoothness.
If you find yourself drawn to yarns that look fuzzy, don't let them suck you in…not just yet. Fuzzy yarns make it somewhat impossible to see the stitches as you work (this is called "low stitch definition"). When you can't see your stitches, you have to guess and that's a disaster for a beginner. Get comfortable with the steps in this guide before you dive into one of those delightfully squishy and fuzzy yarns.
So how much do you need? We recommend you start with one skein. That'll be plenty to experiment with and make the swatches we'll teach you in this guide.
A Crochet Hook
Crochet hooks come in all shapes and sizes and well, we like to say "the perfect crochet hook is in the eye of the beholder". The hook you see here is our perfect crochet hook. This is a Tulip Etimo crochet hook and can be bought individually or as a set. It's not commonly found in craft stores so you may have to order from Amazon if you want to try these hooks.
Different materials to consider…
Metal (smooth & allows the yarn to glide easily over it)
Plastic (smooth but the yarn glides more slowly over it)
Wood (also smooth and the yarn glides more slowly over it)
The wrong hook can completely wreck your experience. If the hook you're using isn't comfortable, if it snags on the yarn or the project or if it feels like the hook is working against you, it'll make for an incredibly frustrating experience. The best way to know which material and which hook is right for you is to try a bunch of them. Many hooks can be bought individually for a pretty low price and it's definitely a worthwhile investment.
Here's what we recommend: Pick out one metal, one plastic and one wooden crochet hook and try each of them with the tutorials below. You may know right away if a hook feels like the wrong fit but only after you've tried a few and have the experience to compare them to. There's a lot more to crochet hooks than just material. Some of them have different hook shapes, some have big handles or skinny handles…try as many as you can. That's the best way to find out which hook is your perfect hook.
Which size do you need? The best way to figure out what hook size to go with is to look at the yarn label. Towards the back of the label you'll see something like this…
For this particular yarn, a 6 mm (K) size hook is a great place to start. So when you're at the store getting your supplies, look at the yarn label and buy the hook size recommended there. It's not the only size that can be used with the yarn (and in future projects you should always follow the hook size in the pattern) but since you'll be getting a smooth, medium weight yarn that appeals to you, this is the best way to figure out what hook size to buy so you can follow along with this guide and learn how to crochet.
A Yarn Needle & Scissors
Every time you finish a crochet project, you'll have some ends to hide or weave in. One from where you started, one where you ended and more if you added new yarn or changed colors within the project. The yarn needle will be the tool you use to weave in those ends and the scissors, well, you get the idea.
These are some things to consider when choosing a yarn needle
Choose one with a large enough eye that you can feed the yarn through easily.
Avoid plastic (it often snags the yarn)
Get a set that includes a few sizes.
These four things are all you need to follow along with our How to Crochet Guide
When you're shopping for these supplies, you'll see all sorts of fun gadgets and supplies. Feel free to experiment with anything you see that looks interesting but just know these four things are all you need to learn how to crochet: skein of yarn, a crochet hook, a yarn needle and a pair of scissors.
Now, one more important thing we need to touch on before we get started.
Don't try to make a project first.
Maybe you found a project on Pinterest and that's what inspired you to learn how to crochet – so you could make it too! As exciting as it is to dive into that project, it's never a good idea to learn how to crochet while making the project you have your eye on. First, it'll be a completely new experience for you to hold the yarn, hold the hook and coordinate the movements that make stitches. It'll be super awkward at first and you should expect your first few attempts to look pretty bad. This is completely normal!
We definitely don't want to deflate your excitement about making that project. You'll get there! We just want to set a realistic expectation so you're not disappointed when your first few attempts look wonky. The last thing we want is you to give up because you expect it to look perfect as long as you're doing it right. Even if you are doing it right, it won't look perfect until you practice quite a bit first. You'll get better as you go. So if you start a project before getting comfortable with it all, your stitches will reflect that. As you keep going, things will improve and start to feel easier and your stitches will look better as a result. If you go through this transformation in a single project, it'll never look quite right.
So as you learn how to crochet, stick with making small swatches at first to practice the stitches until it feels comfortable and the stitches look good to you. Then dive into a project – a small one, so you get a quick win. We have some recommendations for you at the end of this guide.
it all starts here
Every project starts with these two techniques
---
Before anything else, let's dive into the first two things you need to master to start crocheting – making a slip knot and knowing how to hold the hook and yarn while you work.
The slip knot is what you'll create to get the yarn attached to the crochet hook. There are a few different ways to make this knot but the result is the same – a knot with a sliding loop to put the hook through to get your project started.
Gather the yarn in your non-dominant hand to feed yarn to your project. It helps to wrap it around your pinkie to maintain a steady tension on the yarn and let it flow over your index finger so you can grab the yarn with your hook.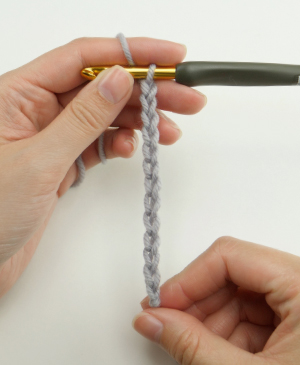 the foundation
The chain stitch is the foundation for nearly all projects.
After you make a slip knot and learn how to hold the yarn, the next thing to master is the chain stitch. Sometimes called "the foundation chain", this stitch really is the foundation for almost every project you'll start from here on out. There are a couple exceptions when you don't start with a foundation chain, but that's not super important for you to worry about right now.
With the slip knot on your hook and the yarn in your hands, keep making chains until it all feels comfortable. Don't worry about how long your chain gets to be – just keep going until it starts to feel natural (you can rip it out later and reuse the yarn).
basic stitches
Nearly all crochet stitches are made from a combination of these four basic stitches
The Single Crochet
The Half Double Crochet
The Double Crochet
The Treble Crochet
There are a couple different approaches you can take when learning how to crochet these four basic stitches:
Make one long swatch for each stitch. Start with a foundation chain number of about 15 and keep crocheting row after row until you're comfortable with the motions and the stitches look pretty uniform.
Make many small swatches for each stitch. Start with a foundation chain number of about 15 and crochet about 10-15 rows. Then fasten off and start on the next.
It doesn't really matter which method you choose as long as you keep practicing one stitch until if feels comfortable before moving on to the next. Below you'll find two tutorials for each of the four basic stitches. The first will show you how to crochet that stitch into the foundation chain to start the swatch and the second tutorial will show you how to keep going after you finish the first row.
Start with the single crochet stitch first, then move on to the half double crochet, then the double crochet and finally the treble crochet. Before you start the first tutorial of each basic stitch, make a slip knot and chain 15. Then start the first tutorial and follow through to the second tutorial.
The single crochet
The shortest of the basic crochet stitches that creates a dense fabric.
The Half Double crochet
The next shortest of the basic crochet stitches that creates a slightly less dense fabric and a beautiful texture.
The Double crochet
A stitch with decent height that works up fast and is versatile enough for all sorts of projects.
The Treble crochet
A tall stitch that creates an open, airy fabric.
adding new yarn to a project
What if you need to add a new skein of yarn?
You probably won't run out of yarn when working through this guide and making your swatches but knowing how to add a new ball of yarn is another must-know skill. Since you're just starting out, let's keep this as simple as possible and add the new yarn at the end of a row.
You can cut your yarn at the end of the row in your swatch to give this a try or simply watch the tutorial and take a mental note for when you need to add more yarn to your project in the future. This tutorial will show you how to add new yarn for all of the four basic stitches.
finishing
Every project ends with these two techniques
---
When you finish a project there are two things you'll need to do to wrap it up – fasten off so the project doesn't unravel itself and weave in the ends so it looks complete.
Fastening off is a really simple technique. It's done the same no matter what stitch you're working but we broke this tutorial down so you can see how to fasten off no matter which of the basic stitches you're working with.
Weaving in the ends is an important step you won't want to skip. It's how you hide the tails from the beginning and end of the project as well as any additional ends from adding new yarn to the project.
continue learning
What's next?
At this point you should have watched all of the tutorials in this guide and worked up a swatch or two for each of the basic four stitches and practiced the four techniques you use in just about every project (the slip knot, the chain stitch, fastening off and weaving in your ends). If you haven't, do that now! This will give you the practice you need to get into the real fun stuff – making an actual project!
Now if you haven't done so already, find a project you're excited to make that's within your current skill level.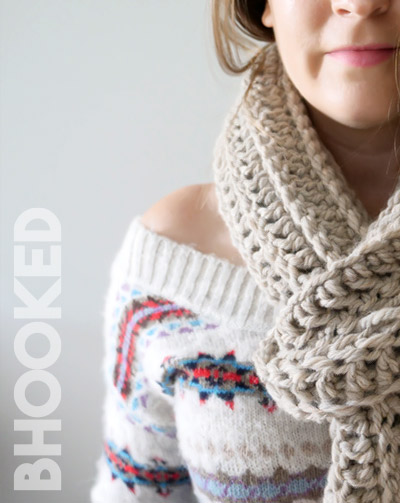 Crochet patterns are pretty easy to find these days.
---
Ravelry | This is the biggest pattern database you'll find the web. You'll be able to filter through patterns of all shapes, sizes and skill level.
Yarn Manufacturers | Yarn companies like Red Heart, Yarnspirations and Lion Brand have hundreds of free patterns to download on their websites. You can usually find a pattern printed on the inside of the yarn label too.
B.Hooked Crochet Patterns | You'll find hundreds of free patterns here on this website. Just click on that link to be directed to our crochet patterns page.
Magazines | Whether you're a digital or page-turner type, you'll find a handful of crochet magazines that offer patterns as well as tips within their pages.
Books | You'll find themed crochet pattern books all over Amazon and probably a few in your local book store too.
Pinterest | You'll find thousands of pins for crochet patterns on Pinterest that are both free and paid for.
The most important thing to remember when choosing your first crochet project is to select one in the beginner category.
and it'll be even more helpful if there's a video tutorial for it to. That's why the best place to find your first project is online rather than in a magazine or book. You won't likely find a step-by-step tutorial to help you through the process of reading the pattern.
The other important thing to consider when choosing your first project is how long it will take to make. A blanket sounds like a really practical project but they can take dozens of hours to complete. If your first project is something that takes hours and hours to make, it'll feel like you're getting no where and you probably won't have the motivation to finish it.
That's why we recommend a "quick win" project – something you can crochet in a few hours or finish in a weekend. Something like a headband, mug cozy, boot cuffs, a small cowl or scarf with bulky yarn is the best place to start for your first project. Here are a few from our pattern database that'll be great for your first crochet project.
free patterns with tutorials
B.Hooked Patterns for Beginners With Step-by-Step Tutorials
---
We're here to help
and we want nothing more than to help you make something that makes you happy. After working through this guide if you find yourself needing more help, don't give up! You'll get better with every project you complete. Be kind to yourself when those first few projects look awful and know you're not alone!
If you find yourself wanting a crochet buddy or needing an experience that's catered more toward you, our crochet course may be exactly what you need. Enter your email address below and we'll let you know as soon as "Learn to Crochet the Easy Way" opens up again.